The Heat held a players-only meeting after losing to the Mavericks on Saturday night, and the main topic of that meeting could have been head coach Erik Spoelstra. According to a report, Heat players are growing increasingly frustrated with their coach as the team continues to acquire losses and hover around .500.
According to the report, the players "believe he is not letting them be themselves, that they are questioning his offensive strategies, and that they think he is panicking because he fears losing his job."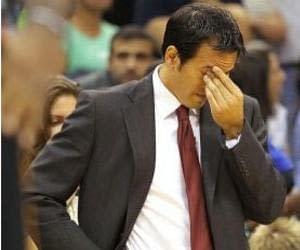 The report also states that Spoelstra has not been hesitant to rip into his Big Three, including a recent outburst toward LeBron James at a shootaround in which he questioned the James' ability to be serious. According to the report, the incident had an impact on the team at large.
Spoelstra and James had another sort of confrontation, when James bumped shoulders with Spoelstra on the way to the bench in the Mavericks loss. Afterwards, Spoelstra downplayed the incident.
"That's the way it should be," Spoelstra said. "Good. Yeah. I think we all were (frustrated) in the timeouts, and that's the way it should be. This shouldn't be fun out here, and it was painful to go through a third quarter like that. If guys feel that pain, good. Again … I don't have a problem with that." Spoelstra also recently said his team needs to display more passion.
The young coach's job security has been in question of late, with even Phil Jackson commenting on it, suggesting Heat president Pat Riley could take the reigns from Spoelstra. In response, Spoelstra laughed off Jackson's comments.
According to a source in the report, while it's believed Riley doesn't want to coach this season, he's been critical of the Heat's game-planning.
"He's not a motivator. Instead of coaching he's at the point where the players are starting to sense that he's fearing for his job."