ARIZONA-based budding Fil-Am gymnast Cienna Samiley, 8, was recently named to the 2010 USA Gymnastics National TOPs Team. She is the only gymnast from the State of Arizona, at her age level, who has earned the right to train at the Women's National Team Training Center located at Bela Karolyi's ranch in Houston, Texas with all expenses for air fare, food and lodging, paid for by USA Gymnastics. She will be joining other gymnasts from other states, ranging in age from 8 to 11 years old, who qualified for the 2010 National TOPs Team.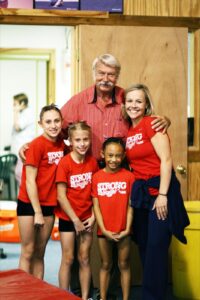 Cienna  is from Gold Medal Gymnastics in Chandler, Arizona and is coached by 1996 Olympic Gold Medalist Amanda Borden and Jacqui Allen Schlink.  Coach Borden, who is also the owner of Gold Medal Gymnastics and Coach Schlink will accompany Cienna and two other Gold Medal gymnasts, Lauren Ramirez, 11 years old, who like Cienna, also made the National TOPs Team and Rebecca Beasley, 9 years old, who qualified for TOPs B Team, when they go back to Texas in December for training camp.
USA Gymnastics, the national governing body of the sport in the United States, conducts an annual Talent Opportunity Program (TOPs) to identify young gymnasts who have the ability to excel in gymnastics.  Through a series of tests, USA Gymnastics identifies approximately 60 gymnasts ages 8 through 11, to make up the TOPs National Team.
TOPs regional testing took place throughout the summer and approximately 2,800 gymnasts participated.  Gymnasts are evaluated on physical abilities and skills.  Based on results from regional testing, around 250 gymnasts from across the country were invited to TOPs National Testing which took place October 1-3, 2010 at the National Team Training Center in Houston, Texas.  At National Testing, the gymnasts perform physical abilities tests such as leg lifts, vertical jumps, flexibility, sprints, rope climbs, handstand hold and press handstands as well as perform required skills on each of the events including Vault, Uneven Bars, Balance Beam, and Floor Exercise.  The scores are tallied and the top 60 gymnasts were named to the TOPs National Team.  Those who qualified to the National Team will be invited to attend a training camp in December at the gymnastic ranch outside of Houston, Texas owned by U.S. Olympic legendary gymnastics coach, Bela Karolyi and wife, Martha.
Gary Warren, Women's director for USA Gymnastics commented that the National Camp is really a gathering of the girls who will become America's elite female gymnasts.  Four or five years down the road, these gymnasts will be showing up in the Olympics in 2016 and 2020.Cienna began gymnastics shortly after turning five years old.  Her preschool teacher noticed her performing cartwheels in the playground and swinging endlessly on the monkey bars.  She advised Cienna's parents to enroll her in gymnastics.  Cienna has been tumbling and flipping happily ever since.  Cienna's favorite event is Uneven Bars where she swings and goes over the Uneven Bars.
Cienna was named to the USA Gymnastics 2009 National TOPs Diamond team as a 7-year-old last year.  Early this year, at the Las Vegas Lady Luck Invitational, she won first place on Vault, Uneven Bars, Balance Beam, Floor Exercise, and won the All-Around for Level 5.  She is now competing Level 6 and training for Level 7.
Cienna has a younger sister, Seneca, 6-years-old, who is also taking gymnastics at Gold Medal Gymnastics.  Cienna is a third grader and Seneca is in first grade.  Both children are proud of their American and Filipino ancestry.  Their grandparents on their dad's side are from Pangasinan and on their mom's side, their grandparents are from the province of Albay.  Both provinces are located in the Philippines.  The grandparents always emphasized to their children and grandchildren that they should always adopt the best of both the American and Filipino cultures.
For more information on the USA Gymnastics TOPs program and to see a full list of the 2010 TOPs National Team members, go to www.usa-gymnastics.org under the Women's Program section.