LOS ANGELES – Josephine Solomonson, an educator for over thirty years and former principal of St. Stephens Martyr School in Monterey Park, California, is the Director and Chairperson of the 21st annual Los Angeles Archdiocese's Academic Junior High Decathlon (AJHD). This is the fourth year that Mrs. Solomonson heads this prestigious academic competition to be held on March 5, 2011, from 8:30 a.m. to 5:00 p.m. at the Los Angeles Sports Arena, 3939 South Figueroa St., Los Angeles, CA.
Over 1,000 students "decathletes" from 104 schools will be competing in this event. In addition to the students, four to five thousand parents and friends cheer them on in the stands.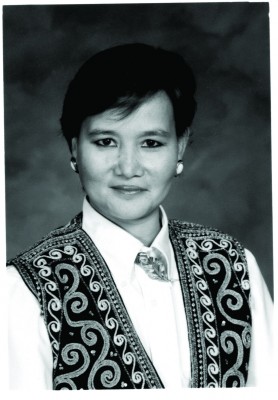 The Decathlon is the largest junior high educational competition in Southern California for students in 6th to 8th grades. The top ten best and brightest students from every participating school will compete for the title as Decathletes of the Year.  Last year's winner, Notre Dame Academy School (Los Angeles) will defend its title to keep the perpetual trophy.
The Academic Junior High Decathlon is a ten event competition featuring two collaborative team events: a rigorous Logic Quiz with 20 rigorous thinking problems, along with a "Super Quiz" finale with 50 multiple choice questions that encompass five broad academic themes (Religion, Literature, Science, Art, and Geography). The remaining eight events test individual knowledge of the Roman Catholic doctrine, English, Literature, Math, Science, Social Studies, Fine Arts (Art and Music) and Current Events.  Awards are given for individual and team performance, and the winning school team will compete with other dioceses' winner in a state championship the first Saturday of May.
The Decathlon promotes academic preeminence and educational values in parochial schools. It celebrates the diversity, excellence and tradition of California's Catholic schools. Principals and individuals volunteer their time to make this event happen.  Moreover, it recognizes the contributions of parents, teachers, school administrators, and business and community members in supporting high standards for all students.
Councilmember Tom Labonge will open the Decathlon with a host of community leaders and television personalities who will serve as Super Quiz readers. They include: Dr. Kevin Baxter, Superintendent, Department of Catholic Elementary Schools, Dr. Shane Martin, 2nd Dean, College of Education, Loyola Marymount University, Ms. Lindsey Myers, Emmy Award winner, Walter Samoi, Featherweight boxing champ and civic leader, Tanyella Evans, Director of Artists for Peace, and Marc Cayce, movie producer and writer.  The Mass will be celebrated by Archbishop Co-Adjutor Jose Gomez. The Sacred Heart of Jesus Music Ministry headed by Art Saranglao will perform the liturgical songs.
Serving her fourth year as the Director and Chairperson of the Decathlon, Mrs. Josephine Solomonson believes that the best way to ensure a bright future for our nation is to invest on our children. "The best investment is bringing our students closer to God and helping them maximize their full potential to become excellent future leaders," Mrs. Solomonson said. "The Decathlon serves as an avenue that promotes collaborative spirit and cooperative learning skills. Its mission is to bring forth those academic talents and celebrate them in the context of spirit-filled competition."
This year, 104 schools will be represented at the competition on March 5th, 2011. Several schools are participating for the first time. These schools are: St. Philomena (Carson), St. Louise De Marillac (Covina), St. Therese (Alhambra), Holy Cross (Ventura), St. Lucy (Long Beach), St. Margaret Mary (Lomita), St. Rose of Lima (Maywood), Santa Rosa De Lima (San Fernando) and St. Bernadette (Los Angeles).
The Catholic Schools Academic Decathlon was founded in September, 1989 by Dr. Mark Ryan who was then a junior high teacher at St. Aloysius School in south-central Los Angeles. Dr. Ryan had a vision for an academic event to parallel the athletic competitions so prevalent in schools. What began as a tiny competition involving a handful of schools from the greater Los Angeles area has grown to become a statewide event involving Catholic junior high students from across the United States . The Decathlon is now under the guiding jurisdiction of the California Catholic State Superintendents Curriculum Committee.
For more information, please contact Mrs. Josephine Solomonson at JSolomonson@Adelphia.net, tel. (626) 627-6672 or visit the website: https://academicdecathlon.wikispaces.com.