By Lydia V. Solis
The Philippine Women's University Alumni Association of Southern California joined some 2,000 Filipinos from Southern California on December 15, 2010, during the Simbang Gabi and Parade of Parols (Filipino Christmas lanterns) at the Our Lady of the Angels Cathedral in Los Angeles. Parols symbolize "Christ as the light that overcomes the darkness of the world."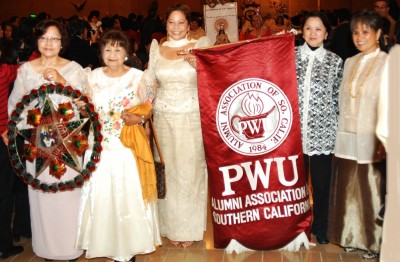 The theme this year is "Pagkilala sa Presensya ni Hesus, Daan sa Pagkakaisa at Kapayapaan" (Recognizing the presence of Christ, Way to Unity and Peace).
"The theme invites us to constantly recognize the presence of Jesus in everyone and in every place, which is truly the way to attain peace and unity," said Father Albert Avenido, coordinator of the Filipino Ministry for the Archdiocese of Los Angeles.
His Eminence Cardinal Roger Mahony officiated during the Mass, with Auxiliary Bishops of Los Angeles and about 30 clerics co-celebrating. The traditional Filipino Advent custom of the nine-day novena before Christmas (celebrated in more than 100 parishes) was held under the auspices of the Office of the Filipino Ministry of the Archdiocese of Los Angeles. This year's Cathedral celebration was coordinated by the Filipino Ministry leaders of the San Gabriel Pastoral Region (the 2010 sponsoring region).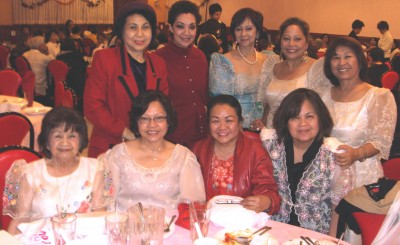 During his homily, Cardinal Mahony emphasized the importance of Filipino family ties as an effective tool for evangelization. That was the last Simbang Gabi that His Eminence would celebrate as head of the Archdiocese of Los Angeles. He turns 75 in February 2011, and will be retiring next year.
Parade participants include families from various parishes as well as leaders and members of community organizations.
PWUAASC was represented by Outgoing President Arceli G.C. Gagajena and Incoming President Virginia B. Vivas; members Exal Igidbashian, Vicky Soong, Velma Viloria, Tessie Lightholder, and Lydia V. Solis; and Adviser Naomi Palma-Armada. Panny Gagajena and Rolin Soong also attended.
An inter-parish choir and the Filipino American Symphony Orchestra led the music. At the conclusion of the event, Bishop Oscar Solis introduced Filipino priests who sang Christmas carols. Father Oscar Azarcon Solis made American Catholic history on Feb. 10, 2004, at the Cathedral of Our Lady of the Angels, by becoming the first Filipino American to be ordained a bishop.