By Ivan Stewart Saldajeno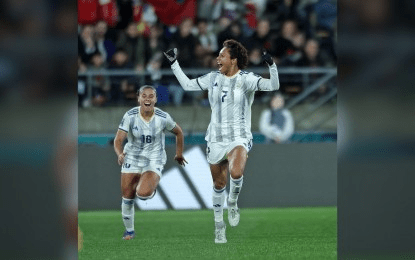 MANILA – The Philippine women's football team scored its first-ever win in the FIFA Women's World Cup by beating co-host nation New Zealand, 1-0, on Tuesday at the Wellington Regional Stadium.
Sarina Bolden made the difference for the Filipinas as she scored the match's lone goal.
Bolden made great use of a set-piece in the 24th minute, converting a Sara Eggesvik free kick into a header that Victoria Esson could not save.
Olivia McDaniel kept a clean sheet for the Filipinas despite the Ferns' 15 attempts with four on target that eventually drew some sighs of relief in the second half.
Jacqui Hand came the closest to a legal goal for New Zealand as her 64th-minute shot hit the left post before McDaniel picked up the ball.
Hand thought she finally equalized for New Zealand as she headed in a Hannah Wilkinson back pass in the 68th minute, but after a video assistant referee review, Wilkinson was caught offside by a few inches.
McDaniel did have a clutch moment as she saved a close shot from substitute Grace Jale midway into stoppage time, which basically sealed the game.
The Filipinas are now tied with New Zealand and tormentors Switzerland in Group A with three points each.
The Filipinas settled for third place in the current standings due to the goal difference.
Switzerland, however, has a chance to regain the lead if they win against Norway later Tuesday at the FMG Stadium in Hamilton, New Zealand.
"This must be a special moment in (Philippine football history), the biggest win in any team sport," Australian coach Alen Stajcic said of the enormity of the victory, although he later admitted that Lady Fortune also smiled on them.
"Of course, we rode our luck because New Zealand had three or four unbelievable chances. There was that VAR call, an inside-the-post goal (that McDaniel was able to save)," he recalled. "But the unity, work rate and heart of team was special. We had some luck but we earned that luck. "
"We really put our head down and we knew what was really coming at us. New Zealand would be coming hard from their momentum of their win against Switzerland but we put our head down and came in focused. We had a goal in mind and we achieved it," McDaniel said of the rousing triumph.
She also chose to share her trophy with the rest of her team and the country, saying, "This is just what I have done, this is what the team has done and what the country has done. It was a team win."
"It is amazing but hopefully this is not the last accolade we will win. It is a team win," she added.
As to what she would do with the trophy, the plucky goalkeeper, still euphoric from the victory, quipped, "Hopefully we will keep it next to the World Cup trophy when we get it."
She, however, admitted that like the rest of her teammates, she had some anxious moments when Hand's point-blank goal was being reviewed by the referee on the VAR.
"We collective(ly) held our breath a minute or two. Such an incredible goal by them but we are grateful that it was called back and we had to move forward. We had to settle down and knew that would keep coming and we make sure that it would not happen again," McDaniel said with relief.
Asked where this victory ranked, Stajcic, a two-time World Cup coach with the Malditas, replied without batting an eyelash, "Beating the host nation in a World Cup, nothing beats that. It's No. 1."
As early as three hours before kick-off time, fans, including Filipinos sporting red-white-blue scarves and Philippine flaglets, started streaming in at the 34,000-capacity stadium.
Among them were actor Ryan Agoncillo and popular actress wife Judy Ann Santos, who flew from Manila to support the Filipinas and watch them play.
Also among the crowd was Magnolia assistant coach Jason Webb, a former football player in his high school days, with daughters Tatiana and Blessing plus former Senator Freddie Webb and wife Elizabeth Webb in tow.
The Filipino community also came out here in full force with about 500 of them, led by community leader Matilde Figuracion and her husband Clark, who was clad in colorful "Ati-Atihan" costumes, led about 100 of them in a street dance from the waterfront to the arena just before kick-off.
Meanwhile, Senator Pia Cayetano, who watched the historic first win of the Filipinas at the FIFA Women's World Cup 2023 held in Wellington Regional Stadium in New Zealand, thanked all Filipinos who came out from all over the world to support the Filipinas, and everyone who cheered online and from their homes.
Cayetano shared that despite being outnumbered by the New Zealand crowd, Filipinos chanting "Let's Go Pilipinas!" can be heard inside the stadium.
The lawmaker said the win proves what Filipinos can do when supported and given the opportunity to excel.
She also rallied support for Team Filipinas, currently at 46th in the world ranking, as they take on their next game against the world's no. 12, Norway on July 30 for a chance to advance from the group stage. (With a report from Wilnard Bacelona)