Filipino fashion designer Oliver Tolentinno dressed an Oscar nominee and the producer of a Best Short Film nominee at the 2011 Academy Awards in Hollywood, California last February 27.
Matthew Libatique, nominated for "Best Cinematography" for "Black Swan", wore a black wool tuxedo with grey abaca fiber tie (abaca is a green plant indigenous to the Philippines). Mr. Libatique has served as cinematographer (director of photography) on many of Darren Aronofsky's films and has worked on director Jon Favreau's "Iron Man" and "Iron Man 2". Mr. Libatique won "Best Cinematography" prize at the Independent Spirit Awards the night before the Oscars (he also won in 2001 for his work on Aronofsky's "Requiem For A Dream"). His upcoming film is "Wolverine", also with Aronofsky.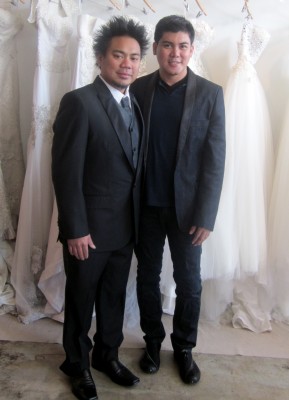 "Matty is a big deal in Hollywood and has earned a position of respect in his field over the past decade," according to Oliver. "It was an honor to dress a Filipino-American for one of the highest Oscar honors for which we have ever been nominated. I was flattered he chose to wear me. When I explained what abaca was and that, as a Filipino-American, it would be great for him to wear one of our native fabrics to the Oscars, I think he liked that. But at first I think he was a little hesitant when I told him I would make a tie out of a plant," laughs Oliver. "But when he saw the finished product, he liked it."
Oliver has made an effort to promote Philippine native fabrics around the world and most recently worked with the Fiber Industry Development Authority (FIDA) in Manila when he took the "Eco Sustainable Fashion Award" in the Bahamas last October.
Gigi Dement, producer of "Best Live Action Short" film nominee "God of Love", wore a one-shoulder, fully-beaded teal green and purple mermaid gown. Purple silk cascaded from the shoulder to ruffles along the neckline and matched with a narrow purple belt. Ms. Dement, a Filipino-American, was an attendee at the Oscars and witnessed the win for her 18-minute short film and its director Luke Matheny. For shorts, the director receives the Oscar.
As most who have been following Philippine press lately know, Oliver has been garnering lots of attention. Earlier this month, he dressed Grammy nominee Kelly Price for the 2011 Grammy awards. Ms. Price was nominated for "Best Female R&B Vocal Performance" for her just released track "Tired" whose dance mix will be receiving a major push in clubs in April. Fantasia ended up wining the Grammy.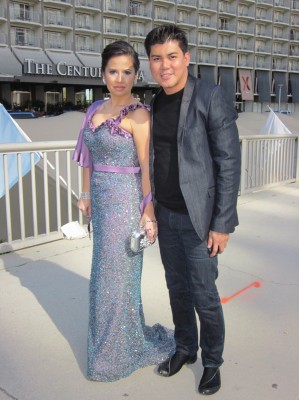 Recently, Anna Maria Perez de Tagle("Camp Rock," "Hannah Montana," "Fame") wore a piña cocktail dress to perform at the Ronald Reagan 100th Birthday Gala in front of Nancy Reagan, former VP Dick Cheney and hundreds of congressman. This was the first time anyone in that audience had seen piña fabric.
Other celebrities Oliver has dressed in the past few months include actresses AMBER RILEY ("Glee") for the Golden Globes, EVA LA RUE ("CSI Miami") for a magazine cover, Aly Michalka ("Hellcats") for a magazine cover, Sophia Bush ("One Tree Hill") for a Globes party, Jenna Ushkowitz ("Glee") for a photo shoot, and celebrity Camille Grammer ("Real Housewives of Beverly Hills") for TV appearances. Just this week, the wife of the owner of Paul Mitchell wore Oliver's Bahamas-winning piña gown for the cover of an eco magazine.
He also dressed Arnel Pineda (Journey) for recent U.S. concert dates and exclusively dressed Kuh Ledesma for her recent Valentine's concert in Manila.