The same night Manny Pacquiao was showing the world what Filipinos can do in the boxing ring, fashion designer Oliver Tolentino was showing what they can do on the runway – by winning the "Sustainable Eco Fashion Award" at Islands of the World Fashion Week 2010 in the Bahamas. The award was voted on by a panel that included "Project Runway" Season 1 winner Jay McCarroll and the dean of Parsons in New York, Simon Collins. Oliver represented the Philippines and is the first Filipino ever invited to present at Islands.
On November 12, the night before the award was announced, Oliver showed a 40-piece eco couture collection comprised of native fabrics pineapple fiber (piña), abaca plant fiber, and raw silk cocoon. Oliver was one of 3 international guest designers, including Jay McCarroll, invited to show in the Bahamas. "I'd describe my collection as about 85% "green," notes Oliver.
So what did they think of it?  According to The Bahamas Weekly website: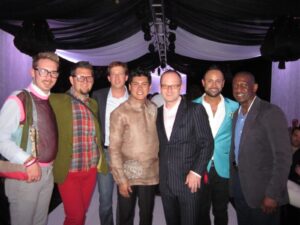 Visiting guest designer, Oliver Tolentino of the Philippines amazed the audience with his never-ending flawless and exceptionally beautiful show-stopping pieces. Rich fabrics made locally in his country of abaca and piña. His beautiful muse wore his clothes as if they were an extra layer of her own skin.  The audience was on its feet by the time Tolentino walked the runway.
"I was shocked when I walked out to see everyone standing!," admits Oliver.  "It made me so proud to be Filipino.  This was the first time anyone there had seen our fabrics.  Simon Collins said sustainable fabric is the hottest topic right now at Parsons.  He said he gives 2 lectures a week on it and this was the first time for him ever to hear of our piña and abaca.  I was so honored to be the first to introduce the dean of Parsons to piña and abaca!," beams the designer.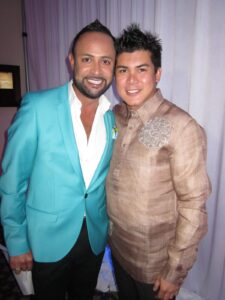 To further his Pinoy pride, Oliver flew in his muse, former supermodel Tutay Maristela, just to walk for him so she could add some Filipina drama to the events.  "Tutay impressed everyone," Oliver says.  "The models were wondering who she was and watched her walk from backstage.  She even had fans by the end of the weekend!," he laughs.
On November 13, the night of the Pacquiao-Margarito fight, Nick Verreos (:Project Runway" Season 2 contestant) announced Oliver was the winner before an international audience, including several ambassadors.  Nick Verreos and Owen Bethel (founder of Islands) presented Oliver with the "Sustainable Eco Fashion Award."
Islands of the World was held at the British Colonial Hilton in Nassau and was televised in the Bahamas and in Miami, Florida.
Oliver is now back in his Melrose Avenue shop in Los Angeles.  Last month, Oliver opened a new Makati boutique, with former First Lady Imelda Marcos, Kuh Ledesma, and Tessa Prieto-Valdes cutting the ribbon.  For more information, you can visit:  www.OliverTolentino.com and Oliver Tolentino's Facebook fan page.