LOS ANGELES – David Pomeranz and Stephen Bishop with Ms. Joey Albert, three mega-hit musical stars in the Philippines, will perform in a special concert on Sunday, December 5, at Pala Casino Spa & Resort.
DAVID POMERANZ. During the last 26 years, Pomeranz's love songs have become part of the fabric of Filipino life. His 10-time, platinum album, "Born For You, His Best and More," is the largest-selling international pop album in the Philippines. His best-loved hits include "Got to Believe in Magic" (from the Scott Baio movie "Zapped"), "The Old Songs," "If You Walked Away," "Trying to Get the Feeling," "On This Day," and "Born For You."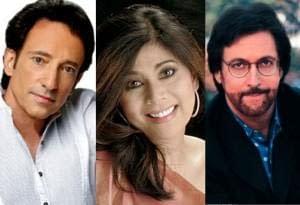 STEPHEN BISHOP, a native of San Diego, CA, has become a Filipino superstar following his major hit song, "On and On," which charted at number 11 in the U.S., and "Separate Lives," sung by Phil Collins and Marilyn Martin for the Hollywood movie "White Nights," which was nominated for an Academy Award. In the Dustin Hoffman starrer "Tootsie," he sung and popularized the theme song, "It Might Be You", composed by Dave Grusin / Marilyn & Alan Bergman, which was a Top 40 hit in the U.S., and also a #1 hit on the U.S. adult contemporary chart and won a cinematic Oscar in 1983.
JOEY ALBERT is a Filipino pop and jazz singer who has enjoyed an award-winning solo career for over 25 years that began when one of her first hits, "Tell Me" received a Gold Record Award from the Philippine Association of the Record Industry, which established her meteoric rise as a major Filipino musical artist. "Tell Me" became such a mega-hit that other known musical artists, including David Pomeranz, recorded cover versions of the song. Joey's other hits include "Over and Over," "A Million Miles Away," "I Remember the Boy," "Points of View," and Tagalog favorites "Yakapin Mo Ako," "Iisa Pa Lamang," "Ikaw Lamang Ang Mamahalin."
"Flashback: Best Hits of the 80's" is directed by Jet Montelibano and produced by Creative Concepts International in association with Pala Casino Spa & Resort in support of ABS-CBN Foundation, Inc., and its programs "Kapit Bisig Para Sa Ilog Pasig" and "Text Bata."
FLASHBACK: BEST HITS OF THE 80'S is sponsored by Pala Casino Spa & Resort, Seafood City, Celebrity Tiangge, Manila Forwarder, Gano Excel, McFadden Realtors and Xoom.com.
The concert is at 4:00 p.m., on Sunday, December 5, 2010, at the Events Center of Pala Casino.
Tickets are $48, $58, $78, & $88. Available at the following outlets:
* Pala Casino Box Office: 1-877-WIN-PALA (1-877-946-7252)
* Star Tickets: 800-585-3737 or at  "http://www.startickets.com/"www.startickets.com
*Creative Concepts: 888-886-7889, 323-327-3483, 714-319-4879, 818-219-2009, "mailto:CreativeConceptsIntl@gmail.com"CreativeConceptsIntl@gmail.com,
"http://www.CreativeConceptsIntl.com/"www.CreativeConceptsIntl.com
* EE Entertainment: 626-374-4906, 714-932-7532, EE_Entertainment@yahoo.com
* Ditas Yamane: 619-474-5300,  DitasYamane@cox.net
* Manila Forwarder: 800-210-1019, 323-478-1599, 619-434-7191, sales@manilaforwarder.com
* Seafood City Supermarket outlets: Los Angeles, Eagle Rock, Carson, Panorama City, North Hills, Cerritos, West Covina, National City, Mira Mesa.
Pala is located in Northern San Diego County; from San Diego/Riverside, take I-15 to Highway 76 east five miles; from Los Angeles County and Orange County, take I-5 south to Highway 76 east, then travel 23 miles. Pala is 15 miles north of Escondido, 12 miles south of Temecula.
Address: 11154 Highway 76, Pala, CA 92059
Telephone: 1-877-WIN-PALA (1-877-946-7252)
Web site: http://www.palacasino.com
For more concert details, log on to http://www.CreativeConceptsIntl.com or email CreativeConceptsIntl@gmail.com.