By Robert MacPherson
CANNES, May 17, 2011 (AFP) – Filipino director Auraeus Solito draws upon his indigenous Palawan heritage for his latest film – and it's all thanks to the bedtime stories that his mother told him.
"Busong" is the only feature from Southeast Asia in competition for the Camera d'Or at the Directors' Fortnight, a showcase for avant-garde productions that runs parallel to the Cannes film festival.


It stars Alessandra de Rossi as Punay, a young woman born with ugly wounds on her feet, whose brother Angkarang (Rodrigo Santikan) carries her around Palawan island in a hammock, looking for a cure so that she can walk.
Solito, the descendent of a Palawan shaman king, but the first of his generation to grow up in a city, makes the most of the island's remarkable mountains, forests and coastline.
"Busong" means fate or karma in the Palawan language, and in an interview with AFP on Tuesday, the day after its premiere, Solito said it explores the concept of instant karma as sister and brother undertake their journey.
Making the film was "a dream", he said, but the story actually grows out of the indigenous myths that his mother told him as a child in Manila to help him get to sleep.
"She was ashamed of her indigenous roots," said Solito, the first of his family's generation to grow up in a city. "She didn't tell me she came from the Palawan tribe until later."
Going back to his roots, Solito rediscovered unique aspects of Palawan culture, such as its poetry and nocturnal chants, but also serious development issues such as illegal logging, nickel mining and land ownership.
"People are land-grabbing, or island-grabbing," said Solito, who in his 30s has an infectious enthusiasm for Palawan. "It's a new form of colonialism."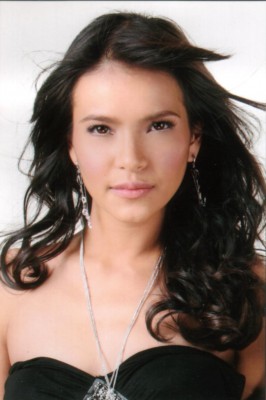 "Other films have been set in Palawan, like love stories set on the beach, but this is the first indigenous Palawan movie," he added.
Solito wears a beaded necklace from Palawan to ward off evil spirits, as well as a Native American thunderbird pendant, and to judge from his career so far, they seem to be working.
He broke onto the international festival circuit in a big way in 2005 with his gay teen drama "The Blossoming of Maximo Oliveros" which collected no less than 15 awards.
"Busong" is his fifth feature since then, and he is thankful that modern technology made it possible for him to bring to the screen a story that has its origins far back in time.
"Digital techology has democratized film-making," he said. "It has leveled up the playing field between Third and First World countries."
De Rossi, who at 26 has been acting for half her life, welcomed the role, which Solito gave her in part because her complexion – which on the French Riveria would pass as a great suntan – is considered "too dark" by the standard of Manila's commercial film and television industry.
"I usually get bad-girl roles, especially on television," she told AFP as she relished her first-ever visit to Cannes. "Now I'm getting roles that make me grow as an actor and a person."