By Antoinette Bueno
Balita Media News Service
Everyone remembers the "ILOVEYOU" computer virus, the computer worm that attacked tens of millions of computers in 2000, including those at the Pentagon, Parliament and the CIA. The virus was made even more scary at the time since most were not as familiar with computers at the turn of the millennium as they are today. It is no stretch to say that the virus created a sort of worldwide panic, forcing people to ask the question of 'exactly just how powerful is the Internet?'… and what happens when programmers use the system maliciously?
The events were even more shocking to Filipinos around the world as it was eventually discovered that the "ILOVEYOU" virus, named after the simple subject line of the infected email message, originated in the Philippines. Two young Filipino programming students (Reomel Lamores and Onel de Guzman) were later found to be the originators of the virus, though because there were no Philippine laws against writing malware at the time, they were eventually released with all charges against them dropped.
But the infamy of the ILOVEYOU virus lives on. Though there have been hundreds of subsequent computer viruses, the ILOVEYOU virus is ingrained in our public conscious and even in pop culture today.
It fact it is this fascinating piece of computer and even cultural history that serves as the backdrop of director Francis dela Torre's film "Subject: I Love You", which boasts an international cast including Jericho Rosales, "Step Up 2 The Streets" star Briana Evigan, Dante Basco, Gary Valenciano and Dean Cain of "Lois and Clark: The New Adventures of Superman" fame.
The film, set to make its world premiere at the Newport Beach Film Festival next Saturday, is loosely based on the infamous "ILOVEYOU" computer virus, but also centers on an intense romance between Rosales's "Victor" character and Evigan's "Butterfly" character. It's a case of opposites attract as Victor, born and raised in the Philippines, instantly connects with famous DJ Butterfly, the complex, urban match to Victor's simpler ways. The film turns into a fast paced thriller, showing the lengths Victor will go to reconnect with Butterfly, as they both get entangled in an international criminal investigation.
"Subject: I Love You" was filmed entirely on location in the Philippines, bringing an international feel to the film as well as showcasing the beauty of the Philippines – a fete rarely undertaken by major filmmakers. But this in fact was one of the major goals Filipino director dela Torre had in mind while shooting the ambitious film.
"I really wanted to show the urban side of the Philippines – to show the Philippines in a good light," dela Torre tells Balita Media in a one-on-one interview.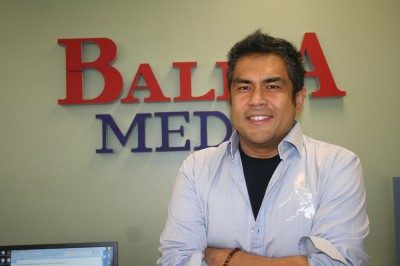 "This was really one of the major things I wanted to accomplish with this film…to show Manila as aesthetically cool."
Dela Torre strived to give the film a romantic tone, showcasing the Philippines as a warmly urban environment. He likens the warm color palate he used throughout the film's Philippine scenes (which he describes as a "rich earthy brown") to international hit "Slumdog Millionaire", saving his cooler color palate for scenes based in the U.S.
The romance thriller takes liberties with the actual story of the ILOVEYOU virus, telling the story in a fantastical way but also focusing on the chemistry between Filipino Rosales and Caucasian Evigan.
According to dela Torre, little was needed to bring out the duo's on screen sparks.
"They had great chemistry!," he laughs.
"But really they were both extremely professional and had a great relationship with one another…I never felt like I had to force anything out of them."
He also describes heartthrob Rosales as a "very serious actor", and recalls him taking careful notes on his character Victor and what he would need to do to bring him to life on screen.
"I didn't know what to expect," dela Torre says about working with one of the Philippines' biggest stars.
"But he was so professional and down to earth – I wouldn't hesitate to work with him again."
And what were the specific problems of shooting a professional feature film entirely in the Philippines?
"The weather!," he laughs.
"It was really hot, and the entire shoot was about 26 days.
It was a very ambitious shoot."
But throughout the intense film shoot, he was amazed at the professionalism and skill level of his Filipino crew, who he instantly connected with due to his Filipino roots.
"I'm happy to say that I still get the jokes," smiles dela Torre, who grew up in the Philippines but attended film school at the University of Southern California (USC)'s renowned School of Cinema/Television.
"It was a fantastic experience and everyone was so into it.
The incredible skill and knowledge they had, and the work ethic, was incredible."
And how did members of his American cast react to shooting in the Philippines?
"Oh they loved it," dela Torre says sincerely.
"In between takes Briana ("Butterfly") would just hang out and play with the children in the street…as corny as it sounds, it really sort of warmed my heart."
Dela Torre and Tectonic Films
In addition to being a respected director, dela Torre, who has directed and photographed numerous television commercials and music videos including Dashboard Confessional's mega hit "Screaming Infidelities" which won the MTV Best Music Video Award in 2002, also founded Tectonic Films, a U.S. and Philippine based independent production company.
A major goal of the company is to give new filmmakers an international audience.
"We really want to make sure these films [films by up and coming filmmakers] have technical achievement," he shares.
"There's a new wave of Filipino filmmakers out there but they are too hampered by budgetary constraints…we try to get financing from the U.S. so that people can see that a high level of technical achievement is possible in the Philippines – that there is a level of film expertise here as well."
Dela Torre himself got his passion for film partly from his dad, who took him to the movies often while he was growing up in the Philippines.
"When I told him I wanted to work in film, he never discouraged me," he recalls.
"He just said that if I wanted to do this, then I better get serious about it."
And serious he was.
During his time at USC, dela Torre was one of only two students selected by a committee of entertainment industry professionals to direct a master's thesis for his graduating class. The experience taught him a lot, as he learned to stay within tight budgetary restraints and how to work within the "studio system," continuously pitching his way into getting his project approved and finished.
With Tectonic Films, he also hopes to encourage Filipino filmmakers to write screenplays of films that can actually be made in the current studio system – "genre" films that don't alienate the audience, but that they can also put their own personal twist on. He also encourages other Pinoy directors to work to have their films be embraced by their own community, much like the Mexican community has embraced their own cinematic hits like Alfonso Cuaron's "Y Tu Mama Tambien" and Tyler Perry's ultra successful films targeting an African American audience.
"There has to be a wave," dela Torre stresses.
"Because you always go back to your culture…the 'Filipino-ness' comes out organically."
Above all, dela Torre and Tectonic Films strive to put out independent Filipino films that stand up aesthetically to mainstream films – that display that same level of technical achievement.
And he has certainly done that with his first feature film "Subject: I Love You".
"I'm very glad my first feature film was shot in the Philippines," dela Torre says about going back to his birthplace.
"But I can't do this movement by myself.
I hope this film is a sort of needle that pushes the way for more Filipino films."
"Subject: I Love You" will premiere at the Newport Beach 2011 Film Festival on April 30th at the historic Lido Theatre in Newport Beach. Tickets are just $12 and are now on sale through the film festival website or at the Lido Theatre box office located at 3459 Via Lido (Newport Blvd.) in Newport Beach, 92663.