Ingredients:
6 pork ribs
1/2 cup of white wine
1 tbsp of soy sauce
3/4 cup of cognac
6 bananas
2 oz of butter
Salt and pepper
Preparation:
Cook the pork ribs in a pan and as soon as they are almost ready remove them from the flame. Place the white wine, soy sauce and ribs in a saucepan.
Cover and cook over low flame for 5 minutes. On the side, peel the bananas and cut them into 1 inch slices. Brown them in banana and season them with salt and pepper.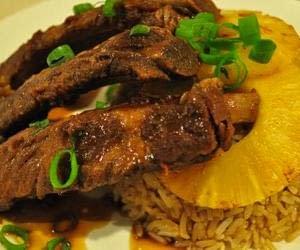 Arrange the ribs in a dish and surround them with bananas, cover everything with the juice. Heat the cognac win a ladle and pour them on the bananas. Serve with white rice.