Ingredients:
1 lb of fresh prawn
1.7 oz of dry rice noodles
1 egg
2 l of water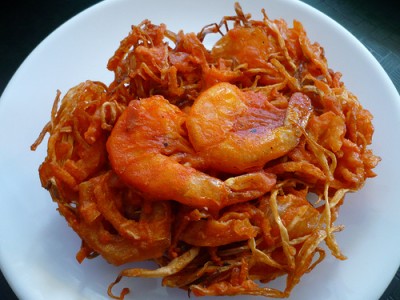 1 tbsp. Of fish sauce
4.5 oz of flour
Sweet chili sauce
2 medium chives; cut in rings
1 minced red chili
Frying oil
Preparation:
Peel the prawns and remove the intestinal thread. Mince half and process the other half, mixing both in a container. Place the noodles and cover them with hot water, leave them for 1 minute. Strain them and cut them in several pieces.
Whisk an egg with the fish sauce and water. Sift and make a hole at the center of the flour and pour the whisked egg gradually; stir until you create a fine paste.
Add the prawn mix, chili, chives and noodles and mix it all.
Heat the oil, placing tbsp of the mix and fry them for 3 minutes until the fritters are crispy. Drain them on paper towels and serve them with the sweet chili sauce.