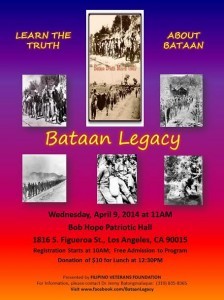 Los Angeles, CA –  In commemoration of the 72nd Anniversary of the Fall of Bataan (A Day of Valor), the Filipino Veterans Foundation will present Bataan Legacy on Wednesday, April 9, 2014 at 11:00AM at the Bob Hope Patriotic Hall, 1816 S. Figueroa St., Los Angeles, CA 90015. Admission to the Program is Free.  Doors will open at 10:00 AM.  A reception will follow at the Purple Heart Inn (Basement) at 12:30 p.m. (Donation of $10).
The Bataan Legacy Historical Project was created by Cecilia Gaerlan to depict the real story of World War II in the Philippines and the major role of the Filipinos during the war.   The multi-media program will combine film, music, photographs and spoken word.  A Q&A with veterans and survivors of the war will follow the presentation.  Bataan Legacy Project has received Commendations, Certificates of Recognition and Letters of Support from Members of the U.S. Congress and Senate and the California Legislature.
The Fall of Bataan on April 9, 1942 is always remembered as the biggest single surrender in U.S. military history.  75,000 troops consisting of 63,000 Filipinos and 12,000 Americans were forced to surrender and march some 60 miles away under extreme tropical conditions with no provisions for food, water or shelter. Those who could no longer go on were beaten, bayoneted and some even beheaded by their Japanese captors.  And civilians who tried to help were dealt with in the same manner. Approximately between 10,000 to 15,000 Filipino and 750 American soldiers died during the march. What is not remembered today is how the defenders of Bataan, despite suffering from massive disease and starvation, held on for four months to delay the timetable of the Imperial Japanese Army and prevented them from reaching Australia.   This enabled the Allied Forces to harness the resources that eventually turned the tide of war and led to the Allied victory.
A contest entitled What Bataan and Corregidor Means to Me will be launched during the event.  Entries can come from different media (essay, performing arts, film, display art and social media). The winner will be announced and presented on May 6, 2014 during the Corregidor- Remember the Rock commemoration at the Bob Hope Patriotic Hall.