MANILA, March 1, 2011 (AFP) – Firefighters putting out a blaze in a house in Manila were shocked to find the property occupied by five tigers and other exotic animals including snakes, wildlife authorities said Tuesday.
The tigers, two Burmese pythons, three Indian tortoises and different breeds of cats and dogs were all rescued unharmed, according to the national environment department's wildlife rescue center.
"The tigers were in sealed enclosures, about 50 by 15 feet (15.2 by 4.5 meters). The animals are apparently in good condition," said Riza Salinas, head of the rescue center.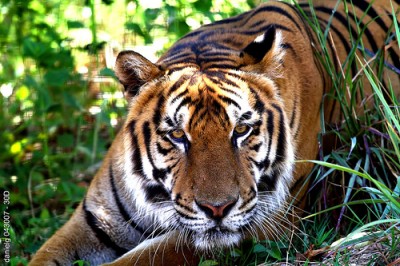 The house, in a gated Manila suburb, was a two-story building with a large backyard where the tigers were kept in their cages.
The animals were registered to a private citizen to keep as pets on his farm outside the capital but he had no permit to keep them on a small property in the city, said regional wildlife division chief Primo Capistrano.
"We will be inquiring if this guy has commercialized them, if he is breeding them and doing other things," said Capistrano.
The owner could face charges for illegal transport of wild animals, which is punishable by a year in jail, Capistrano added.
Wildlife officials had confiscated the pythons and tortoises, but the tigers were remaining in the cages for the time being, according to Salinas.