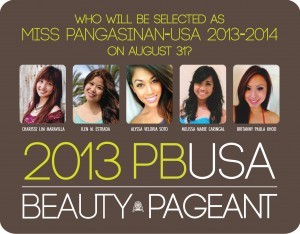 Five lovely beauties from Pangasinan Brotherhood  will vie for Miss Pangasinan-USA on Aug. 31, between 5:30 p.m. and 1 a.m. at the Embassy Suites Anaheim-South, Garden Grove  to coincide with its  35th foundation anniversary.
This was announced by Pangasinan Brotherhood-USA President Eddie C. Ferrer and Marites O. Bautista, chair of this year's gala night and beauty pagean.
The five beauty candidates who will showcase their pulchritude are Melissa Caringal of the Original Urdanetanians,   Britanny Khoo of Bayambang, Charisse Lim Maravilla of Dagupan City Club, Maria Ilen Mandapat Estrada of San Carlos City and Alyssa Veloria Soto of Mangatarem.
Ms. Caringal, 21, is a senior student at California University-Riverside majoring in Chemistry and looks forward to graduate this year.  Ms. Khoo, 22, is also senior student at  California State University-Long Beach taking up Nursing. She expects to graduate in December and hopes to become Pediatrics nurse someday. Ms. Maravilla, 23, graduated with a B.S. degree in Communication Skills in June 2012 from California State University-Long Beach. She works for a financing company and a parttime businesswoman as a clothing designer and dressmaker. Ms. Estrada, 23, is a senior student at California State University-Long Beach and expects to graduate in the spring of 2014 with a B.S.  degree in Health Science and Community Health. Ms. Soto, 20 is a junior student at California State University-San Marcos taking up Pre-Medicine and hopes to further her education at UCLA Medical School to someday become a trauma surgeon.
According to Leo Arce, this year's production director, the candidates will be judged by beauty (10 percent), Talent (10 percent), National Costume (10 percent), Gown (30 percent) and Question & Answer/Interview (40 percent).
Mr. Arce who recently directed the well-acclaimed St. Irenaeus Parish Filipino Community "Tayo's Magsaya Variety Show" at the Kennedy Performing Arts Center in La Palma has directed several beauty pageants and concerts in both the Philippines and the U.S.. He has a degree in Mass Communications and had worked in movies, T.V. and radio before he moved to the U.S.  He will be assisted by his wife Adele and their children to make sure that every production details are meticulously covered. His by-word is, "dapat maganda and dating." Coming from a family of entertainers, directors and producers, he always looks forward to something different.
 A big part of the funds raised from the dinner-dance tickets  and advertisements in the souvenir program are earmarked for the Scholarship Program of PB-USA which had so far sponsored 11 scholars from Pangasinan  who enrolled in various colleges and universities in the province leading to a baccalaureate degree. Three  had already graduated  and eight are still pursuing their courses.
The 11 Scholarship recipients belong to the under-privileged but academically-gifted  and deserving college-bound students.  Three  scholars were sponsored under the administration of Ads Diaz (2006-2007), four from Dan E. Nino's tenure (2010-2011) and another four from Eddie C. Ferrer's term (2012-2013).
 In 2007, three high school graduates were provided college scholarship grants  from the towns of Alaminos City, Basista and San Fabian; four recipients from Basista, Mabini, Malasique and Mapandan received their endowments in 2011 while another four grantees received their gifts from Manaoag, Mapandan, Mangatarem and San Fabian in 2013. One scholar from Mangaldan which is not represented by a town association received instead cash donations from kind-hearted officers of PB-USA.
This program of Pangasinan Brotherhood-USA, the biggest umbrella organization in North America,  is to  promote  higher learning as a way of alleviating poverty in third world countries like the Philippines. The organization took into consideration a Chinese proverb,  "Give a man a fish and you feed him for a day. Teach a man how to fish and you feed him  for a lifetime." It also was inspired by Lebanese author/poet Kahlil Gibran who put it, "Generosity is giving more than you can and taking less than you need."
This program is also in line with PB-USA's objectives  "of raising the quality of life of  fellow Pangasinenses, thereby making the Brotherhood an  agent for change and prosperity."
Proponents of this program are strong believers that education levels the playing field for college graduates seeking for a better life. They pointed out  that an enlightened citizenry and a person with a sound intellect can better himself and become productive and useful citizen.
 Donors who would like to contribute to PB-USA's  lofty cause and advocacy are tax-deductible under section 170 of the Code under PB-USA's Charitable/Educational non-profit, public charity  501-C3 tax-exempt  status of the Internal Revenue Service.
Other major activities organized by the present administration were the hosting of former President Fidel V. Ramos in his "Philippine Roadshow Tour" and "Silver Lining" book launching; hosting of Pangasinan Administrator Raffy Baraan  who spoke on the state of the province transforming Lingayen the number one capital town of  the Philippines,  number one in local governance and a recipient of commendations from Banko Central of the Philippines; the hosting of the "Business, Trade, Product Sourcing and Manufacturing Seminar (Phase 1); the forthcoming Trade Mission in Pangasinan this Sept. 21 at  Dagupan City's Leisure Coast to drum up interest for local manufacturers to export their local products to the U.S. and enhance grassroot economic activities  in the town and cities of Pangasinan (Phase 2), among others..
Music and entertainment will be provided by the Hilltop Band. The Gala Night will be fully balanced between dancing and beauty pageant show.
Interested parties who want to make reservation are enjoin to call Eddie C. Ferrer @ 562-841-5381; Marites O. Bautista @ 714-539-0739; Dan E. Nino @562-921-5116; Rhenee M. Ferrer @562-397-7753; Perlita Rasing @310-834-4920 or Lina Cabal @ 562-841-5966.