By David Wasson
While the mail service may run and banks are still open, Wednesday for many around the country has been circled on the calendar for months as a virtual national holiday.
And inside athletic departments nationwide, Wednesday's National Signing Day is a 24-hour period that means almost as much to football coaches' futures as on-field success.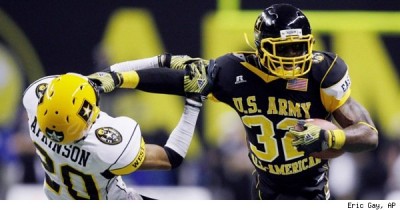 Every year, there are a few twists and turns that come with National Signing Day as a five-star recruit may suddenly switch teams and turn a "solid verbal commitment" to one team into a "signing day coup" for that team's rival. And while most programs enter Wednesday feeling like their recruiting classes are locked down for 2011, no one truly knows until ink meets paper and 18-year-old athletes back those commitments with signed national letters-of-intent.
As a prelude to Wednesday's full-on finale to recruiting season, here are FanHouse's Top Five Things to Expect On National Signing Day:
1. Don't expect resolution with Jadeveon Clowney: The consensus No. 1 athlete in the 2011 recruiting crop, Clowney (6-6, 247, Rock Hill, S.C., South Pointe HS) has offers from every school worth fielding a football team, and has apparently narrowed his choices to home-state South Carolina and Alabama. What Clowney apparently won't do is actually commit OR sign Wednesday – as he is reportedly waiting for his 18th birthday on Feb. 14 to give either the Gamecocks or the Crimson Tide the best Valentine's Day gift of them all.
2. Southern Cal closes with a Top 5 class: Despite a crater-sized chunk of scholarships about to be taken away from the Trojans via the NCAA as part of massive sanctions related to Reggie Bush's tenure at the school, little is slowing down coach Lane Kiffin and his staff from piling up the talent in the meantime.
Because USC appealed the scholarship reductions as a part of its NCAA penalty, Kiffin has been able to fully recruit for 2011. And the result is impressive – 25 commitments so far, with five-star WR George Farmer (6-2, 192, Gardena, Calif., Junipero Serra HS) and ATH De'Anthony Thomas (5-9, 160, Los Angeles, Calif., Crenshaw HS) the best expected to sign on the dotted line Wednesday.
3. Expect Auburn to outshine Alabama: With the past two BCS crystal footballs residing in the Heart of Dixie, it shouldn't come as a surprise that both 2009 national champ Alabama and 2010 national champ Auburn would be the cream of the recruiting crop as the 2011 race concludes. What is a bit of a surprise is that it appears that Auburn's Gene Chizik might end up out-recruiting Alabama's Nick Saban for overall talent.
It helps that Auburn is dominating inside the state lines, with eight Rivals.com Top 250 players to Alabama's four, and having flipped LB/RB Brent Calloway (6-1, 210, Russellville, Ala., HS) from Alabama and OL Christian Westerman (6-5, 288, Chandler, Ariz.,Hamilton HS) from Texas. Alabama hasn't exactly stunk it up, either, and boasts five-star talent like DB Hasean Clinton-Dix (6-2, 190, Orlando, Fla., Dr. Phillips HS) and RB Demetrius Hart (5-8, 190, Orlando, Fla., Dr. Phillips HS). Should Alabama also wrest Clowney 11 days later from South Carolina, well, it could be the Tide's year after all.
4. Oklahoma could wake up: Perennially one of the earliest programs to fill its recruiting needs (coach Bob Stoops and his staff have not gotten a commitment since summer), the Sooners have found themselves making a late push for some prospects. Among the potential players who could call Norman home come Wednesday are CB Bennett Okotcha (6-0, 175, Coppell, Texas, HS), a one-time Wisconsin commitment who recently switched to Notre Dame.
5. Florida State will prove the class of the Sunshine State: Though not likely a surprise given the coaching changes in Gainesville and Coral Gables, it is the dominance Florida State has shown over Florida and Miami (Fla.) through the recruiting push that is most notable.
Coach Jimbo Fisher is set to receive signatures from five-star RB James Wilder Jr. (6-2, 219, Tampa, Fla., Plant HS) and five-star S Karlos Williams (6-2, 210, Davenport, Fla., Ridge HS) — and even have room to sign uncommitted five-star LB Tony Steward (6-2, 225, St. Augustine, Fla., Pedro Menendez HS) and four-star DL Timmy Jernigan (6-2, 275, Lake City, Fla., Columbia HS)