By Nanette Guadalquiver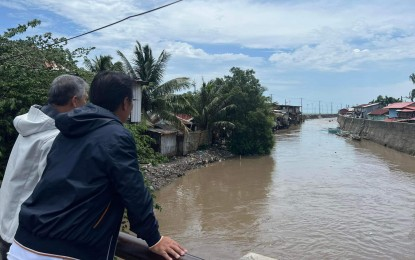 BACOLOD CITY – This city has been placed under a state of calamity and suspended classes until Friday following four days of incessant rains that flooded 33 out of its 61 barangays, Mayor Alfredo Abelardo Benitez announced Wednesday night.
"Due to the declaration placing the entire city under a state of calamity and to provide for the clearing and cleaning operations of several schools affected by Typhoon Goring, classes are suspended until September 1," he said.
As of Thursday, some 14 public schools have served as evacuation centers for displaced families across the city.
The City Council approved the declaration on Wednesday afternoon upon the request of Benitez based on a resolution passed by the City Disaster Risk Reduction and Management Council as almost 10,000 residents here sought shelter in evacuation centers since Sunday due to torrential rains brought by southwest monsoon enhanced by Typhoon Goring.
The declaration of a state of calamity will allow the city government to utilize its calamity funds and impose a price freeze on basic goods.
In Pahanocoy, among the hardest-hit villages, the City Council headed by village chief Yolanda Noble also declared a state of calamity on its own.

"Almost 95 percent of the puroks (sub-villages) have been flooded," she said, adding that for the first time, a large residential subdivision was even inundated earlier this week.
In a meeting with concerned departments and agencies led by Benitez on Wednesday, some of the root causes of flooding identified were the obstructions along rivers and creeks, accumulation of sediments in waterways originating from upland areas, and lack of interconnection of inland drainage systems.
Among the potential solutions proposed included the construction of flood walls along vulnerable rivers and creeks, dredging of sediment-clogged waterways, interconnecting the existing drainage systems, upgrading the capacity of current drainage infrastructure and implementing proper management practices to clear obstructions from rivers and creeks. (PNA)