By Ruth Abbey Gita-Carlos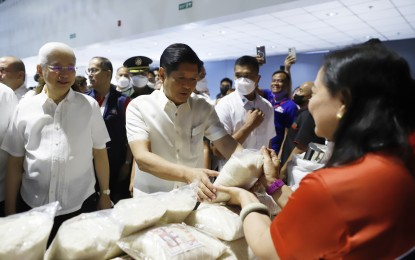 MANILA – The Association of Southeast Asian Nations (ASEAN) could attain overall human security once it succeeds in being food self-sufficient, President Ferdinand R. Marcos Jr. on Wednesday said.
Marcos issued the statement as he called on the ASEAN member-states to pursue innovative solutions to ensure food self-sufficiency and food security in the region.
During his intervention in the Southeast Asian leaders' Interface with the Representatives of the ASEAN Business Advisory Council (ASEAN-ABAC) in Indonesia, Marcos urged the regional bloc to take advantage of new technologies by using smart agriculture and food systems.
"As such, the Philippines supports ABAC's proposal on strengthening food security, promoting sustainable production, enhancing information systems, and identifying nutrition-enhancing agriculture mechanisms for sustainable ASEAN food systems," Marcos said.
"I would like to reiterate the commitment of the Philippine Government to work with the private sector to advance ASEAN's goals and objectives," he added.
This, as Marcos stressed that human security is "at the heart of ASEAN's economic growth, hard-earned peace and stability in the region."
During the 42nd ASEAN Summit Plenary Session, Marcos emphasized the need to ensure that food and energy systems in the region are "resilient" amid the supply and price fluctuations triggered by geopolitical instability and conflict, pandemic, climate change, logistic chain disruptions and fuel shortages.
Marcos ensured that the Philippines is ramping up its efforts to attain food security in the country by using new agricultural technologies, upgrading technical and vocational education and training, and adopting climate- and disaster-resilient technologies.
United together and stronger
Marcos said ASEAN must also keep pace with the rapid digital regional transformation.
"In a region with citizens who are enthusiastic adopters of digital solutions that are reshaping the way our countries do business, we must capitalize on such assets as e-commerce and digitalization to advance the trade agenda, enhance cross-border trade, and foster economic integration," he said.
Marcos also echoed the ASEAN-ABAC's call for the regional bloc to take a leading role in shaping the regional and global economy by staying "united together and stronger" in determining its present and future economic agenda.
He said the Philippines fully recognizes the importance of private sector involvement as the "main engine" of ASEAN's economic activity, especially in the delicate logistics chain of goods and services across the region. (PNA)