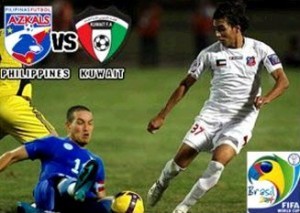 MANILA, July (PNA) – Barring strong Tropical Storm "Juaning's" soaking the Rizal Memorial Football Field Thursday, the Philippine Azkals would likely face a different kind of storm against the Kuawitis who swept them with a mighty 3-0 kick last week in their home turf.
The Kuwaitis, who have reached the World Cup semis once, most probably won't give the Azkals a chance to shame them in the second round World Qualifying here.
The Azkals will pin their hopes on leading international scorer Phil Younghusband and his strike partner Angel Guirado, midfielders Jason de Jong, Manny Ott, James Younghusband, defenders Rob Gier, Anton del Rosario and Rey Jonsson and goalkeeper Neil Etheridge.
In addition, the Azkals can also count on homegrown talents Chieffy Caligdong, Ian Araneta and Roel Gener.
Team manager Dan Palami said Tuesday he is hopeful for better results but that is easier said than done even if team captain Aly Borromeo and Fil-German midfielder Stephan Schrock return from suspension.
Then there's the fact that the Azkals have not lost on home ground since 2006 and the big crowd would ruffle the concentration of the Kuwaitis and boost the support post for the locals.
But the Kuwaitis are not alien to foreign crowd intimidation which makes them one of the better teams in the Middle East.
"We will stick to the game plan. We had a good first half against Kuwait even though we played defensive. When we got adventurous, that's when they killed us," Palami said.
Palami pointed out that there are still a lot of positives from the loss to what he called an Asian powerhouse.
"Kuwait has been in the World Cup. They are really a strong team and competing with them is a testament on how the sport has developed here," said Palami. ■