The holiday season is surely in town; and with it, the Christmas rush. Do you think you can manage to fix all your Christmas preps at this time of the year, getting the right gifts, putting up that Christmas tree and worst, food preparation for your merry Noche Buena?
A history-rich Luisa and Son Restaurant and Bakeshop can offer you an array of options for that little problem you have.
"We wanted to bring back the good old memories built around delicious and affordable Filipino food shared by Filipinos with their loved ones and American friends, especially during Christmas and other special occasions or celebrations," Rosie del Rosario said, owner of Luisa and Son.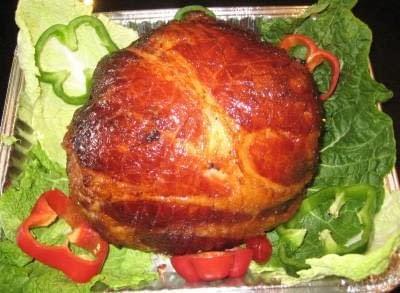 Starting off with the Philippine Style Ham; the plump serving of this 1lb and 5lbs can give a feisty Christmas Eve dinner the real Christmas spirit because it is prepared, decorated and well done as a Noche Buena main meal.
The delectable Pancit Malabon/Pancit Palabok is also in the line up. Its blend of chicharon, flavorful sauce and lots of shrimp will make you have some more.
A grand feast for Filipinos, Christmas must have a grand meal too. Rellenong Manok is another entrée in the festivities. And you don't have to worry about too much chicken; this one is a good addition too because of its abundant fillings. You really have to try it.
For this Christmas and New Year, the bakeshop also serves scrumptious chicken pastel with crust, delicious roast beef, callos, menudo, beef kaldereta, etc. Try also their Baked Macaroni or Spaghetti, Meat Loaf, etc. Check out also their line up of Native Kakanin
such as bibingka, puto, kuchinta, pitchi-pitchi, cassava cake, halayang ube, leche flan, puto bumbong, palitao,suman, maja mais, sapin-sapin, nilupak and a whole lot more.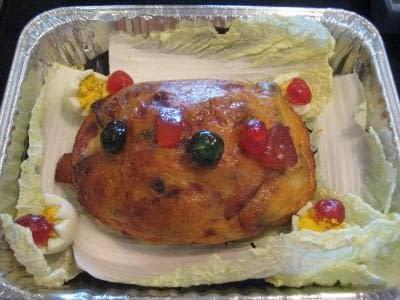 These meals can also be gifts because all the food in Luisa and Son are prepared and presented well. But if you want something little, the Filipino-style fruit cake is also available. Fruit cakes are available in 1lb for $9.99 and 1 ½ lbs for $14.99.
Just tag a Christmas card and its good to go.
For diners of all age and color, it also has a huge selection of sweets and pastries like Food for the Gods, sansrival, assorted cupcakes, empanaditas, ensaimada, brownies, mango bars, butter scotch and cookies, assorted bars etc.  that you can bring to your host. Gift baskets and boxes filled with assorted sweets like Pastillas, Boat Tarts and Candy balls are also available. You can give these as Christmas gifts for your loved ones available in baskets and packages on December 7, 2010.
Try our original Bibingka Galapong and mini emapanadas  available daily. You can also place advance orders for Kakanin platters.
So holidays or not, Luisa and Son Restaurant and Bakeshop can always be an option for your Filipino stomach needs. Everything is fast, and convenient for your advantage.
Forget your Holiday rush, visit or call Luisa and Son and place your orders in advance.
Luisa and Son Restaurant and Bakeshop is located at 11620 ½ and 11622 ½ South St. Artesia, CA 90701 (beside Sea Palace Market). Tel.nos. (562) 924-8100, (562) 860-6029, Cell nos. (323) 719-8754, (562) 704-0288.