By Joyce Ann L. Rocamora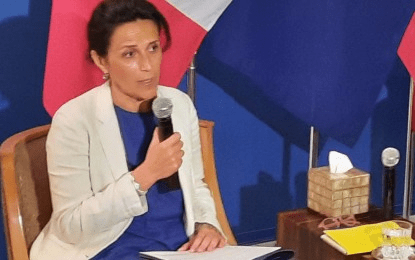 MANILA – France is contributing 200,000 euros or about PHP12 million to provide healthy meals to school children in the Philippines.
The announcement was made by visiting French Minister of State for Development, Francophonie and International Partnerships Chrysoula Zacharopoulou on Tuesday after meeting with Filipino officials during her three-day official visit to Manila.
The funding will be coursed through the World Food Programme (WFP) under its "School Meals Coalition" being co-led by France and Finland.
"The question of nutrition is very important and we know very well that all around the world there is a problem – many children, they don't go to school because they have to also work, unfortunately. This is against the children's rights, but also they don't have access to the schools because of food," Zacharopoulou told reporters.
"This coalition guided by France and Finland with the WFP is very important because we need to use everything to give access to food to the children."
The School Meals Coalition was initiated by the WFP and presented at the United Nations Summit on Food Systems in 2021 to give every child the opportunity to receive a nutritious meal in school by 2030.
The coalition is composed of more than 75 countries, including the Philippines, which has pledged to increase fiscal support to school meals and improve the quality and coverage of the program towards universal feeding.
In a 2023 report on the children's lived experience of the food environment in the Philippines, Unicef observed that the diets of Filipino children were "changing" during the pandemic.
The report showed that children are eating fewer fruits and vegetables, and more sugary, salty and fatty products, with poor diets contributing to a "triple burden of malnutrition with undernutrition, in the form of poor growth and micronutrient deficiencies, co-existing with increasing rates of overweight."
"This triple burden of malnutrition is being driven by systems that are failing to provide children with adequate diets, space to play and exercise, access to safe water and hygienic environments, and financial security," Unicef said.
A 2022 annual country report by the WFP also noted that the impact of compounded crises – including the global food and energy crisis and climate change – continued to challenge the food security and nutrition situation in the Philippines.

Food security

Zacharopoulou likewise emphasized Paris' commitment to working with Manila to address food security.
Since December 2022, two French delegations of agriculture experts visited the country to discuss with Filipino partners ways to boost partnerships in agriculture.
"There is a strong interest on our side to develop cooperation in this field," Zacharopoulou said. "My country has a big tradition regarding the agriculture and sustainable agriculture. (These) technical teams from Philippines and from France are working together on a roadmap and see exactly what we can put together."
Apart from food security and nutrition, she also discussed with Filipino officials possible collaboration on health, medical scholarship, fighting climate change, and trade and investment.
Zacharopoulou was in the Philippines from July 30 to Aug. 1. (PNA)