GRAPEVINE, Texas – Trainer Freddie Roach has accepted the apology of rival Robert Garcia for his part in a video where he appears to encourage the mocking of tremors caused by Roach's Parkinson's disease as it features two of Garcia's fighters, Antonio Margarito and Brandon Rios.
In the video, Margarito moans, "Oh, Freddie Roach," extends his arms out slightly in front of him, appears to briefly shake his hands, and then tilt his head slightly to the left. Rios also appears to be acting as if he is having difficulty speaking, and also contorts his face.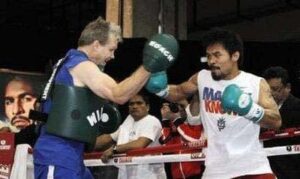 Freddie Roach: Well, you know what? When I first saw the video I was a little upset. I felt bad for all of the people who have Parkinson's and all of the Parkinson's patients in the world, and so forth. Because, you know, for people who have this disease, it's incurable.
It really sucks having it. You know, I have to deal with it every day. I don't even need them to remind me of it. I have to deal with it every day. They apologized and they told me that they went a little bit too far. Okay, I accept their apology, and they're not terrible people. Let's just get on with the fight.
Now, yesterday at the press conference, you said that you would not accept an apology, but I understand that Robert Garcia personally called you and apologized over the telephone?
Roach: Well, because that apology at the press conference really was not an apology. That was more of a cover up because they said that we don't know what Parkinson's disease is. And they said that they didn't know that I had Parkinson's. But I've been written about and stuff so everybody in the world knows that.
But, you know, after I got off of the phone with Robert, he had apologized sincerely. He brought up how I have treated him when he comes to my [Wild Card Boxing Club] gym and how I've given him sparring partners. He said how if he wins this fight, he's not the greatest trainer.
Robert said that I would still be the greatest trainer because I've had so many world champions. I felt like it was a very sincere apology. You know what? I'm a forgiving person and, you know, I think that they realize that they went a little bit too far. I was upset but I'm not anymore.
I'm not going to let it bother me and I'm not going to let it bother my fighter, Manny Pacquiao. The fight is the most important thing right now. You know what? We all go overboard a little bit sometimes. I'm sure that I do too. But the thing is, they made a mistake and you know they know it now.
I can accept that, and I can accept their apology.
Can you shed some perspective on what it is like to have Parkinson's disease for anyone who might not know?
Roach: This was a big mistake because this is a disease that will kill me someday. This is a progessive disease that will get to me. I know my symptoms, and I know that every year, I know that I get a little bit slower and I know that I shake a little bit more than before.
But the thing is, this is not just about me. There is a whole world of people with Parkinson's out there – guys like Michael J. Fox and so forth. So when they made fun of me, they made fun of everybody in the world who has Parkinson's disease by doing that video.
They might have thought that it was funny at the time, but they made a mistake, and they apologized, so I do accept their apology. But I want to be done with it right now. I want to say that they made a mistake, and, make sure that the whole world gets the apology that they gave me.
You know what, after speaking with Robert, I don't think that they meant me any harm, and I'm sure of that. They're not bad people. So let's leave it at that and I have accepted it and everything and let the best man win.
Do you have any final thoughts on the video controversy and any good that can come out of it?
Roach: It should never have run. It didn't help anybody. It was directed toward me, but it affected a lot more people in the world. But maybe we should donate some of the purses of both parties to the Parkinson's foundation.