SO LA
By Jannelle So
This past week has been crazy, hectic and proud for kababayans. There's news of Pinoy Clint Gamboa and Pinay Thia Megia making it to "American Idol" Top 24; followed by Clint being booted out of the famous reality show as Thia advanced to Top 13. And as this year's youngest Idol contestant at 15 won the hearts of judges and voters, another young kababayan in Canada took center stage in Toronto for her duet with Lady Gaga. The two performed Gaga's "Born this Way" which was covered by the 10-year-old YouTube sensation in one of her videos.
Add these to the long list of Filipino singing stars being recognized internationally – Charice Pempengco, Arnel Pineda, Lea Salonga, among others. Without a doubt, the Philippines is solidifying itself as a nation teeming with musical talent.
But that's not all. This past week, many considered it a major, major accomplishment when kababayans also became well-represented at this year's annual Academy Awards – the biggest yearly gathering of film and entertainment hotshots in which achievements of excellence are recognized.
"May I present to you the Academy Awards class of 2011," said Winston Emano who organized a press conference introducing Filipino Oscar contenders at Search to Involve Pilipino Americans (SIPA) a few days before the glitzy awards night. "This is the most number of nominees we've had in history."
There were five nominated – actress Hailee Steinfeld in Best Supporting Actress category for her performance in "True Grit;" Matthew Libatique for Best in Cinematography for his work on "Black Swan;" and Gigi Dement, Stephen Dypiangco and Stefanie Walmsley, the three producers of "God of Love" which was nominated for Best Short Film (Live Action).
"I thought once we got nominated, that was it. Work was done," said Stefanie at the said press conference when asked about their thoughts on the nomination. "Obviously a newbie, I didn't know the work had just begun."
The three gamely guested on "Kababayan LA" on Friday before the day of Hollywood reckoning and generously shared their thoughts on their experiences – working on the film, how the Oscar nomination changed their lives, what they were looking forward to the most. Catch all of it at www.youtube.com/kababayanla18.
The gown seemed to be the biggest concern for Gigi and Stefanie. But it proved to be a non-issue as several other kababayan designers came to the rescue. I like to refer to it as bayanihan in Hollywood as Oliver Tolentino stepped up to prepare a gown for Gigi; and Stefanie's three outfits from different Filipino designer-friends even had to be shipped from Manila.
"I, of course, look for talent and work ethic. But if you're Pinoy, you're hired," said Gigi, when asked about how she picks people she works with on a given project/film. And with this statement proving how Filipinos help fellow kababayans. So if you're an aspiring filmmaker, you might want to get in touch with her. It's time to dispel talks and perceptions of crab mentality within the community!
I watched the most glamorous Hollywood event at home, in my pj's, while doing my laundry. I was disappointed when both Matthew and Hailee did not get the famed Oscar statue. But almost did a back flip when "God of Love" was announced winner in its category. It was definitely a proud moment for Filipinos! And guess what, because I had the three on the show, I was told the following Monday that even my non-Filipino crew members were ecstatic when they heard that our producers won the award.
Here's hoping to more. Stephen came back on the show and talked about future projects. Gigi is working on some shorts and a documentary back in New York. Stefanie went back to her day job in a cosmetics company, also in New York; but wants to go back to the Philippines and help produce quality films. Keep tuned in to "Kababayan LA" for more details.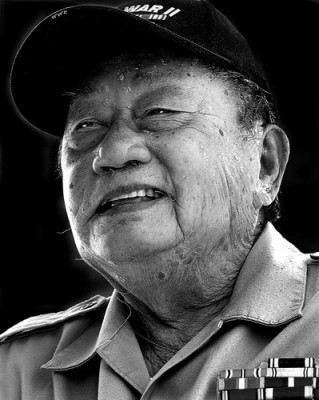 But as we welcomed the achievements of kababayans in Hollywood, who are fighting the artistic battle for recognition, we also had to bid paalam to a Filipino World War II veteran who's been fighting for justice and equity. He survived WWII; even overcame the Bataan Death March; came out of an 11-month incarceration at the P.O.W. Concentration Camp O'Donnell; but fought the fight of his life the best marching the streets, giving talks in his old age, to educate people about the Filvets' struggle for full equity and recognition.
I first met Faustino "Mang Peping" Baclig when I covered their Veterans Day parade in historic Filipinotown some years ago. I was then a freelance correspondent for Balita America on The Filipino Channel. He was probably around 80 years at the time. But what struck me was how strong he was, taking to the streets to rally their cause; and how lucid he was, talking to me about his experiences during WWII and how the physical struggles during that time paled in comparison to the emotional anguish they were feeling as the U.S. government continued to deny them their full rights as veterans.
Our first meeting would be followed by many other interviews on "Kababayan LA" as they gave our viewers regular updates on the struggle to address the 63-year-old injustice that started with the Recission Act of 1946 when Filipino soldiers were stripped of their rights to military benefits. What struck me about this whole issue is that at the time, Filvets were dying at an average of five per day. I heard of stories about our lolos riding a bus to a meeting, then getting lost because in their old age they forgot where they were going or forgot their bus stop. It was depressing.
When American Recovery and Reinvestment Act (ARRA) which was signed by President Barack Obama on February 17, 2009, Mang Paping and his comrades came back on the show to share their thoughts: "It was better than nothing," he said. I felt the pain in his voice. The resignation coupled with helplessness.
ARRA made provisions for a one-time lump sum payment of $15,000 for Filipino veterans living in the US and $9,000 for those based in the Philippines. These payments were in lieu of pensions that the US government promised them during the war but reneged on paying.
Like his fellow Filvets, Mang Peping got his money. But because at that point, the fight and the victory had practically become moot and academic (most of the veterans were too old to enjoy the fruits of their sacrifices) Mang Peping – the man who gave so much of his life so that others may enjoy freedom; so that his fellow veterans may enjoy full equity and recognition – gave the money to his kids and grand children. He fought bravely and gave gallantly to the very end.
"I did not fight with the thought of becoming as hero. I just did what I was ordered to do but suffering such sacrifices and expecting death at any moment gave me the strength and the courage to fight. Through these trials, I have realized that there was always someone greater who was always with me," – Faustino "Mang Peping" Baclig (February 14th 1922 – February 27th 2011)
Because of people like him, we have the freedom to live; to pursue our dreams; to make choices in life. It has taken a whole lot for Filipinos to march from the Bataan Death March unto the Academy Awards red carpet. May we always remember to cherish every moment of the journey; and to not waste the many opportunities we have now because of those who came before us and paved the way we trod ever so smoothly these days.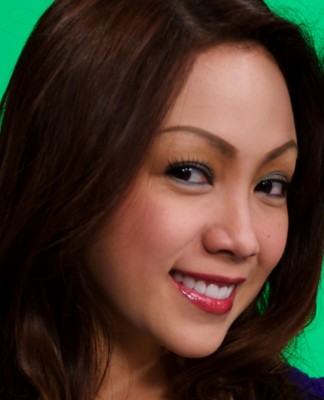 Jannelle So is the only Filipina immigrant seen daily on local television in Southern California. She is the Host/Producer of "Kababayan LA" – the first and only daily talk show for Filipino Americans and has negotiated sponsorships from companies interested in her target audience. She has more than 16 years of global content production and print and broadcast expertise covering a wide range of topics from Philippine politics to US politics, to sports, Hollywood, lifestyle, health, music. Jannelle holds a Certificate in Journalism from the University of California, Los Angeles and a Bachelor's Degree in Communication Arts which she attended as an honor scholar.