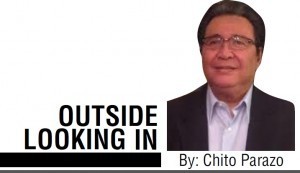 The bid of President Noynoy and his allies for charter change that will pave the way for extending his term beyond 2016 appears to have lost its luster as a result of strong public indignations and massive street protests.
Even some of Noynoy's political supporters have expressed strong objections in amending the 1987 Constitution, saying that the President was ill-advised to tinker with the Charter. Among them are former senators Joker Arroyo and Rene Saguisag. Both of them served as cabinet secretaries during President Cory's time.
Some are saying that should Noynoy persists in amending the Charter, it will incur the ire of majority of the voters, including those supporting him who still hope, albeit dwindling, that he could still do something for the good of the country in his last two years in office.
Malacañang , as of now, has abandoned the attempt for a second term for Noynoy, which critics claim may include clipping the powers of the judiciary.
Noynoy's allies even hired a foreign "PR" consultant to prop-up the sagging image of the President as a result of a backlash of  public opinion regarding Charter change.
Deputy spokesperson Abigail Valte, in an apparent bid to calm down the people's strong outrage, claimed the President was only testing the people's sentiment. But this was in contrast to what Communications Secretary Herminio Coloma has said, in that, according to Coloman,  the people "want" Noynoy to continue being the President.
Aquino's attempt to extend his term beyond 2016 and to muscle the judiciary, particularly the Supreme Court, has clearly shown his petty, selfish and dictatorial tendencies. He is a power and control freak. He is the type of a person who attempts to dictate how everything around him is done. However, if anything goes awry on any of his decisions, he blames others, but not himself.
This makes me wonder as to the President's plans with DILG Secretary Mar Roxas now that the proposed Charter change appears to have been nipped in the bud. Everyone knows that the proposal to extend Noynoy's term through charter change was the idea of Roxas and his "Balay"  political group and close associates.
When the President said he was amenable in changing the  Constitution, which was written and ratified during his mother' term, has changed the political landscape of the country. Hardest hit by the sudden political turn-around by the President is Vice President Jejomar Binay, the presumptuous 2016 opposition presidential bet.
After besting Mar Roxas in the 2010 vice presidential race, Binay has been considered by many as a shoo-in for the 2016 general election, if not outright winner. As a matter of fact, days before the Charter change proposal came out, Binay was even being considered to be the guest presidential candidate of the Liberal party of Noynoy.
Binay has always been loyal to the family of Cory Aquino. He owned his political break to the late president wh named Binay as officer-in-charge of Makati after the EDSA uprising that caused the downfall of Marcos in 1986.
As of now, Binay, who has the full backing of all of Noynoy's sisters, is playing it smart. When asked to comment on Noynoy's sudden change of heart regarding charter change, Binay said the President's open  mind to amend the Constitution and for a possible second term for Noynoy must be respected.
Binay, however warned that a charter change at this time would be divisive and attempts to curtail the powers of the judiciary could create a constitutional crisis.
As it stands right now, there is really no opposition presidential bet, except for Binay. It will cost someone around six billion pesos to run a presidential campaign. As of today, only former senator and real estate magnate Manny Villar and Binay have that kind of money.
Villar accumulated most of his wealth from his real estate deals. But I wonder where Binay acquired his humongous wealth. I hope some of it did not come from the overpriced Makati car park buildings, which incidentally is a current issue and are now being investigated. As I recall, Binay started his career in government service as a lowly clerk during the time of Makati mayor Max Estrella.
I hope that someone, other than Noynoy or Binay or other "trapos," will emerge as an alternative presidential candidate that will better serve the country and do good for the welfare of the Filipinos.
The late Interior and Local Government Secretary Jesse Robledo would have been a good president had he not died in a plane crash in 2012. I do not personally know him. But I admire his courage and political will in his quest to curb illegal gambling (jueteng) during his stint as interior secretary over the strong objections of provincial governors close to Noynoy and some cabinet secretaries.
I hope too that former Congressman and Defense Secretary Gilbert Teodoro will have a change of heart and will try to run again as president. Teodoro lost to Noynoy in the 2010 presidential election. His track record as a congressman from Tarlac is very impressive as compared to his second cousin, President Noynoy. Teodoro' stint in Congress and in the Defense departments is devoid of corruption or wrongdoings.
Too bad we lost Robledo. He would have been a good president for our country. Sometimes I wonder if God loves the Philippines. After Estrada, came Gloria and then Noynoy. My God, I'm scared. Who is going to be the next president?