A California high school student was shot in the head and a second student was struck in the neck today when a gun inside a backpack accidentally went off in a school hallway, police said.
Gardena High School, south of downtown Los Angeles, was promptly locked down and heavily armed police carried out a dragnet through the sprawling campus before arresting a sophomore. A gun was also recovered, Lt. Steve Pendergrast, spokesperson for Gardena Police, told ABC affiliate KABC-TV.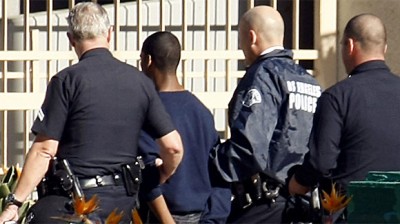 The shooting was reported at around 10:40 a.m., Pacific time, by a teacher.
A gun inside a backpack unintentionally discharged, Los Angeles Unified School District spokesperson Robert Alaniz said.
"It's our understanding that this morning during passing period, the suspect either dropped it or hit it against something injuring two students," Alaniz said.
Gardena police said that the two students were wounded by one bullet. A 15-year-old girl was shot in the head and is in critical condition, KTLA reported. A 15-year-old boy was shot in the neck and is in critical condition, KTLA said.
A cousin of the girl posted on Facebook that she is currently undergoing surgery.
A teacher said that it appeared to be an accident, Alaniz said.
Police wearing bulletproof vests, helmets and holding guns entered the front of the school searching for the shooter. Los Angeles School Police found a young man and took him into custody.
The handcuffed suspect was wearing a longsleeve dark shirt and jeans as police escorted him from Gardena High School to a police vehicle.
The traffic intersection surrounding the school was closed to traffic. The school was put under lockdown. Students were dismissed, and parents were asked to only use one of the school's exits to pick them up, Alaniz said.
The high school typically has a police officer on site and security officers use a metal wand to check the students for weapons, Alaniz said.
Gardena High School is part of the Los Angeles Unified School District. The school has 3,100 students.
Shooting Not The First At Gardena High School
This was not the first shooting at the school. In 2002, a robbery gone wrong on campus resulted in the shooting of two people, the Los Angeles Times reported. It said the three students involved in the shooting were all sentenced to prison, and one is still serving a seven-year sentence.
Discipline has been a problem too. Five years ago, more than 2,000 suspensions were given out, and 15 students expelled, the Associated Press reported. Those figures remained high until last year when the number of suspensions dropped to 300 and expulsions to two.
On the school's website, Principal Rudy Mendoza said that one of his goals is to establish "an active discipline committee to effectively implement a progressive school wide discipline plan that begins in the classroom."