By Filane Mikee Cervantes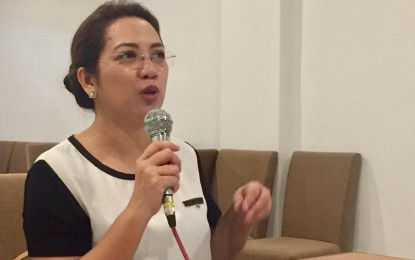 MANILA – Former health secretary and now Iloilo Rep. Janette Garin on Monday posted bail for the graft and technical malversation charges against her over the purchase of the Dengvaxia dengue vaccine.
Garin maintained her innocence on the charges concerning the alleged realignment of government funds for the procurement of the Dengvaxia vaccine worth PHP3.5 billion.
Garin said her co-accused, including former Health Undersecretary Gerardo Bayugo, former Department of Health (DOH) officer in charge Director Maria Joyce Ducusin, former Health Undersecretary Kenneth Hartigan-Go and former Philippine Children's Medical Center executive director Julius Lecciones, have also posted bail.
"Posting bail is part of the agonizing process to prove our innocence. It is a crucial step in ensuring (a) fair trial and safeguarding one's rights," Garin said.
"We hope that this first step into cleansing our name can be dealt with timely so that scientists and doctors can perform our regular tasks," she added.
Garin noted that the controversy surrounding the Dengvaxia vaccine had led to a significant drop in vaccine confidence, resulting in a measles and polio outbreak in the Philippines.
"Resolving the issue once and for all is aligned to the Doctors for Truth clamor because global history have taught us that any vaccine demonized, usually spreads to include other vaccine-preventable diseases and results in outbreaks," Garin said.
The Ombudsman noted that the procurement of Dengvaxia from pharmaceutical giant Sanofi Pasteur in 2016 was not part of the health department's expanded program for immunization (EPI).
The Ombudsman further said the Dengvaxia vaccines were not listed in Volume 1 of the Philippine National Drug Formulary in violation of Executive Order 49, series of 1993, and related administrative orders and issuances.
The Ombudsman recommended bail amounting to PHP90,000 per respondent in the graft case, and PHP18,000 each in the technical malversation case.
More than 800,000 school children were vaccinated in 2016 when Sanofi announced that Dengvaxia may cause adverse effects on those who have not had previous dengue infection. (PNA)