LOS ANGELES (AP) – Although Pau Gasol was caught a bit by surprise when Steve Blake lobbed a pass off the backboard to him during a 2-on-nobody fast break, the 7-foot Spaniard still snagged it and slammed it home with gusto.
Not much is getting past Gasol or the Los Angeles Lakers – and the two-time defending champions' opponents haven't stood much of a chance during a sublime start to the season.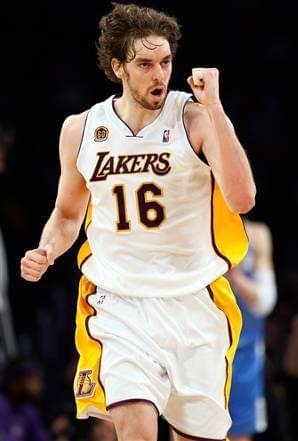 Gasol had 20 points, 14 rebounds and 10 assists while completing his fourth career triple-double by the third quarter, and the Lakers easily improved to 7-0 for the fifth time in franchise history with a 121-96 victory over the Portland Trail Blazers on Sunday night.
Gasol clinched his first triple-double since Feb. 17, 2009, with an assist on Ron Artest's basket with 3:10 left in the third quarter. He sheepishly acknowledged knowing how many assists he needed to hit the mark, but effusively praised his teammates for making his feat possible in another formidable win for the streaking champs.
"We've been through so many battles, and we're still growing as a team," Gasol said. "Everybody is growing up together."
The Lakers might keep growing, but it's tough to believe they could play much better. Even coach Phil Jackson couldn't find many nits to pick, directing effusive praise at Gasol and Lamar Odom, who had 21 points and 12 rebounds.
"Lamar Odom, right now, he's an All-Star," Portland coach Nate McMillan echoed.
Kobe Bryant scored 12 points and Artest played stringent defense on Portland star Brandon Roy for the Lakers, who led by 24 points in the first half and 29 down the stretch while outrebounding the Blazers 49-25.
"We're a pretty good team," Bryant said. "We're just playing extremely well together. We're a deep team, we're an unselfish team, and this is what you get."
Shannon Brown hit three 3-pointers while scoring 15 points for the Lakers, who also started 7-0 two years ago and in 2001-02, when they began their roll to their first threepeat under Jackson. Los Angeles' only better starts were in 1987-88 (8-0) and 1997-98 (11-0).
Two nights after struggling to hold off Toronto while getting outrebounded by 18 boards, the Lakers expected their biggest test of the young season from the Blazers, who were off to a 5-2 start. Portland has been consistently better during recent head-to-head matchups with Los Angeles, which hasn't won its season series with the Blazers since 2004-05.
But this one was no contest: The Lakers improved to 5-0 at home with a comfortable lead throughout the final 3 1/2 quarters, moving the ball with veteran ease and holding the Blazers' top two scorers – Roy and LaMarcus Aldridge – to eight points apiece.
"I wouldn't say it's discouraging, but they're good," said Roy, who got his only field goal midway through the third quarter. "You can just look at them on paper and see they've got a lot of players, they've got a lot of depth. They're a team that you can't go out there and play with low energy, or they're going to kill you. It's no secret they're stacked."
Andre Miller scored 20 points and Nicolas Batum added 17 for the Blazers, who lost for just the second time in their last six meetings with the Lakers.
With a dominant performance down low and on the perimeter, Gasol nearly reached triple-double territory during the first half, racking up 14 points, 11 rebounds – the same number as Portland's entire roster – and seven assists.
The Lakers are leaning heavily on the Spaniard while starting center Andrew Bynum is recovering from knee surgery, but a summer away from basketball left Gasol energized for the task.
"I liked his passing," Jackson said. "I always admire that you can get the ball in the post, and he can create shots for his teammates from there."
After beating Toronto at home one night earlier, the Blazers were sluggish from the opening tip. Los Angeles led 27-12 late in the first quarter, and Artest shut out Roy until the 22-points-per-game scorer hit four free throws in the final 1:42 of the half after Artest had checked out to rest.
"Off the back-to-back (games), they knew that, and they jumped on us," Miller said. "They played typical Laker ball."
Bryant played less than 25 minutes and iced his right knee on the bench during the game. His lowest-scoring game of the season prevented Bryant and Gasol from becoming the first Lakers teammates to open a season scoring 20 points apiece in seven straight games since Jerry West and Elgin Baylor did it in 1961.
NOTES: The Lakers could match the second-best start in franchise history when they host Minnesota on Tuesday night to end a three-game homestand. … Jackson's personal best start to an NBA season came in 1996-97, when the Chicago Bulls opened 12-0. … Fans near courtside included Justin Timberlake, Chevy Chase, Jaleel White, former Clippers coach Mike Dunleavy, movie producer Brian Grazer and Tampa Bay Buccaneers DT Brian Price. The rookie from UCLA went on injured reserve last week.