By Wilnard Bacelonia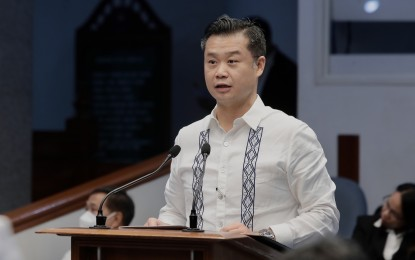 MANILA – A senator expressed concern over the low number of children going to school in the Bangsamoro Autonomous Region in Muslim Mindanao (BARMM) during a public hearing on Wednesday held by the Senate Committee on Basic Education.
Sen. Sherwin Gatchalian, who chairs the panel, cited the Historical Participation Rates data from the Department of Education (DepEd) showing that for School Year 2020-2021, 53 percent attended kindergarten; 69 percent went to elementary; 37 percent in junior high school; and only 13 percent proceeded to senior high school in BARMM.
"In other words, the older they get, the more dropouts. When they reach senior high school, only 1 out of 10 are in school," Gatchalian said.
"This is worrisome because nasaan na yung siyam (where are the other nine)?" the lawmaker asked saying classrooms might not be the problem.
"The more important problem is how to get our kids to school and how to retain them in school," he added.
For the national data covering the rest of the regions, 66 percent went to kindergarten; 89 percent in elementary; 81 percent in junior high school; and 49 percent in senior high school.
The lawmaker suggested to the Ministry of Basic and Higher Technical Education (MBHTE-BARMM) to promote schooling in the region, bring the children back to school and retain them in going to school.
When he was talking to BARMM governors, Gatchalian recalled hearing from them that a lot of children in BARMM drops out of school to work in farms or help out their families because of poverty.
"But of course in the long run, that's not very good because you need a diploma nowadays in order to got to college. You also need a diploma nowadays to look for meaningful jobs," he said.
MBHTE-BARMM Bureau of Basic Education Director Johnny Balawag admitted that encouraging children to go to school in the BARMM is one of the challenges that they are facing but said they have been doing their best to address the problem.
"We identified as much as 210 barangays with no schools in the entire region. So out of the 210, we were able to address already 106 putting up learning centers," Balawag said, citing the MBHTE-BARMM's Abot Kaalaman ng Pamilyang Bangsamoro Program which uses an Alternative Learning Delivery.
He also shared that they have an ongoing initiative called "reach every child campaign" that encourages children to go to school.
When asked further by Gatchalian about the possible factors that contribute to the low education participation rate in BARMM, Balawag cited poverty as the number one factor.
"Apparently, in the region we could also observe mostly children being used by their family for income generation. Even international organizations are saying that child labor is apparent in the region," Balawag said.
"Looking into the mindset of every family within the region on the importance of education is another factor," he added, admitting that cultural practices, like early marriages, also play a role.
Gatchalian suggested that the ongoing decommissioning process in the BARMM should also go with increasing the education participation among children.
"The cycle will just go around and round. So, it's good to have that good education intervention so that sabay siya (it will go along) with the normalization and decommissioning," he said, urging the MBHTE-BARMM to work closely with DepEd in increasing the education participation rate in the region.
He also vowed to help the MBHTE-BARMM in finding the needed funds for the programs that would address the problem. (PNA)