SAN FRANCISCO, Dec. 6Â  – Supporters of same-sex marriage in California took their fight to a US federal appeal court Monday, in the latest stage in a legal saga which could have national implications.
Gay rights activists want the Ninth US Circuit Court of Appeals to uphold a landmark ruling in August which overturned a ban on homosexual weddings in the West Coast state.
"We're here today just to uphold that decision," said Paul Katami before the court hearing in San Francisco, where supporters and opponents of gay marriage rallied outside the courthouse.
"We're excited today because we're going into this with a record based on the truth, that asserts that our fundamental right is to have the right to marry," he told CNN.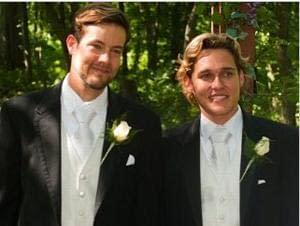 In the August ruling, a federal judge said a ban on gays and lesbians tying the knot – imposed by a 2008 referendum – was discriminatory and therefore violated the US Constitution.
But opponents of gay weddings appealed, and a week later a federal judge agreed to maintain the ban pending the appeals process which started Monday in San Francisco.
Critics argue that California's voters made their intentions known in the November 2008 ballot initiative known as Proposition 8, with 52 percent backing the ban on same-sex unions.
"Homo Sex is a threat to national security" said one placard held aloft by an opponent of same-sex weddings outside the court, while another declared: "One nation under God, not the 9th Circuit."
But supporters of homosexual marriage retorted that marriage should be open to all. "We all deserve the freedom to marry," read one poster, while another said simply: "Marriage is Love."
Inside the courtroom a three-judge panel began by hearing arguments about whether opponents of same-sex marriage have the legal standing required to proceed with their case.
Only if the judges rule that they are qualified to be represented in court will the case go on to the substance.
The 2008 vote banning same-sex marriage surprised many in traditionally liberal California, and came only six months after the state's Supreme Court reversed a previous ban on same-sex weddings.
Some 18,000 homosexual couples had tied the knot between May and November that year, when gay weddings were briefly allowed.
Experts believe that ultimately the legal fight is almost certain to end up before the US Supreme Court in around 18 months, once appeals hearings in lower courts have run their course.
If it does go to the Supreme Court it could set a precedent for legal challenges in other US states, the vast majority of which do not deem same-sex weddings to be legally valid.
Currently only the states of Connecticut, Iowa, Massachusetts, New Hampshire and Vermont, as well as the US capital Washington, recognize gay marriage. (AFP)