By Benjamin Pulta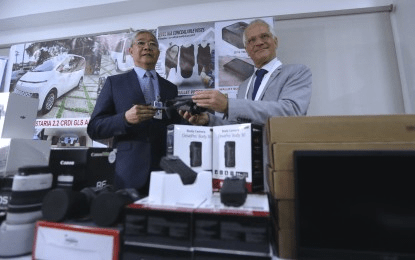 MANILA – The National Bureau of Investigation (NBI) on Monday formally received equipment donated by the Federal Republic of Germany for the agency's anti-human trafficking operations in ceremonies held at office in Quezon City.
NBI Director Medardo G. De Lemos and German Ambassador to Manila Dr. Andreas Michael Pfaffernoschke witnessed the turnover of various equipment donated by the German Federal Criminal Police Liaison Office.
These include a Hyundai van, laptop computers, shirt vest, tactical lights, camera, camera lens, body cams, drone with remote control, electric scooters, binoculars, heavy-duty boltcutter, aluminum ladder, battering ram, mini GPS trackers, wireless wifi mini-cameras, wireless wifi mini camera bottle and wallet cameras.
The donation was part of the commitment of Germany, particularly the German Federal Criminal Police Liaison Office, to improving police cooperation worldwide by providing assistance to police partners through projects related to Police Development Assistance (PAH).
De Lemos expressed his "deepest gratitude" to the Pfaffernoschke, Ulrich Gundlach of the German Federal Criminal Police Liaison Office (BKA) and Alexander Schmidt, First Secretary for Political Affairs for the donation. (PNA)