By Joyce Ann L. Rocamora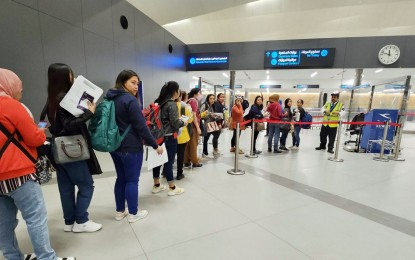 MANILA – The German and Philippine governments are in talks for a potential deal that would help streamline the recruitment of Filipino professionals, the German Embassy in Manila said Wednesday.
Speaking on the sidelines of the Mabuhay Germany press launch in Makati City, German Embassy Economic Counsellor David Klebs said the agreement would work "more on streamlining technicalities" in the recruitment of Filipinos working in other sectors other than health care.
"We have a letter of intent formed to make an agreement and we work on this. But it's always going to be on the highest standards of recruitment, following international standards, following our German standards," he told the Philippine News Agency.
The Philippines has been a part of Germany's Triple Win or sustainable recruitment of nurses project since 2013.
In 2022, the two states signed a memorandum of understanding (MOU) on Filipino health care deployment, which sought to enhance the recruitment procedures for Filipino nurses under the Triple Win.
Klebs said the new agreement "is going to include other professionals" but declined to name the specific professions covered, citing the ongoing talks.
The type of agreement whether it will be a non-binding instrument like an MOU is also yet to be finalized.
Klebs, however, said there would be no difference if the final deal is binding or not as "Germans are bound by their own law to have the highest recruitment standards".
"We also have an extremely high set of labor rights. Filipino workers in Germany are being treated like German workers— they have full social insurance and all the other benefits that come immediately from the very first time they arrive," he added.
Strengthening relations
Apart from labor and human rights, the Philippines-Germany relations span across various areas of cooperation, including on climate change, renewable energy, education, and trade and investment.
Ahead of the celebration of the 70th anniversary of the establishment of diplomatic ties between the Philippines and Germany in 2024, stakeholders are also working to strengthen bilateral trade and synergy between Filipino and German businesses.
From Nov. 16 to 18, the German-Philippine Chamber of Commerce Inc. will stage a three-day business fair "Mabuhay Germany" at the World Trade Center in Pasay City.
The event, with free admission, will feature business leaders, industry experts, and key government officials from the Philippines and Germany to provide updates on the combined efforts of Manila and Berlin to drive innovation and support sustainable development.
Among the topics that would be discussed are right procedures for fair recruitment, role of generative AI in the business process outsourcing (BPO) sector, resilient cities, climate and ecological protection, and social media marketing. (PNA)