SAN FRANCISCO, April 12, 2011 (AFP) – The Los Angeles Dodgers and San Francisco Giants put aside their heated rivalry to denounce the violence that left a Giants' supporter in a coma with head injuries.
In a rare sight before a Major League Baseball game, players from both teams came out of their dugouts and stood on the pitcher's mound to urge to supporters to end the hatred that resulted in Bryan Stow being severely beaten outside Dodgers Stadium by two Los Angeles fans.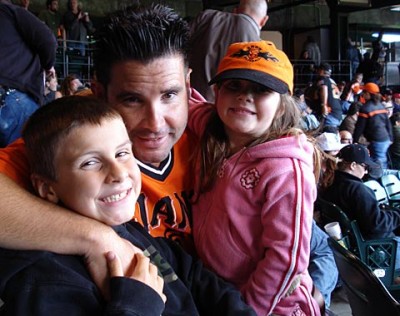 Monday's game was dedicated to Giants' fan Stow, who remains in a Los Angeles hospital in critical condition in a medically-induced coma.
"Tonight was an emotional night with the Stow family and everybody's thoughts (with them). It was a special night with both teams having a common goal in mind," said Dodgers' Clayton Kershaw, who pitched almost seven innings to lead Los Angeles to a 6-1 victory over the Giants.
The 42-year-old Stow is a San Francisco area paramedic and father of two. No arrests have been made despite some estimated 100 witnesses who saw the beating immediately after the game in the parking lot.
Giants pitcher Jeremy Affeldt and Dodgers infielder Jamey Carroll took turns speaking to the crowd of 40,870 from the field before the game.
The Giants also stepped up security heading into the contest, fearing there might be a retaliatory strike against visiting Dodgers fans by the Giants' faithful.
"This game is not about violence, it's about having fun," Dodgers centre fielder Matt Kemp said after the game.
Kershaw gave up six hits to go with seven strikeouts and two walks.
Rod Barajas smashed a solo home run for the Dodgers, who took three of four from the Giants to begin the 2011 Major League Baseball season.
The Dodgers also lost shortstop Rafael Furcal to a broken left thumb that likely will land him on the disabled list Tuesday.