By Alexander Lopez and Joyce Ann L. Rocamora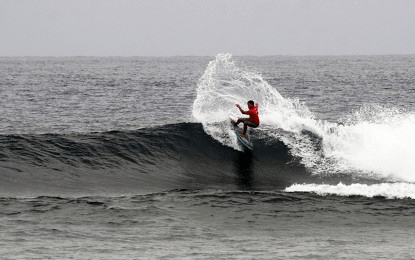 BUTUAN CITY – The recent recognition of Siargao as one of the Top 10 Islands in Asia for this year's Condé Nast Traveler's Readers' Choice Awards indicates that it has fully recovered from the pandemic and the brunt of Typhoon Odette in 2021.
"Siargao Island has indeed bounced back," Department of Tourism regional director in the Caraga Region (DOT-13) Ivonnie Dumadag said in an interview on Friday.
The list, released earlier this week, also included two other island destinations in the country – Boracay winning the third spot and Palawan at sixth.
Siargao Island, the surfing capital of the Philippines, is back in the list after failing to make it in 2022. The last time Siargao made it in the same category was at CNT's 2021 awards and its best holiday destinations of 2020.
Boracay this time scored 90.74 and bested Phuket in Thailand and Langkawi in Malaysia.
Palawan beat Sri Lanka, Phú Quốc in Vietnam and Okinawa and Ryuku Islands in Japan.
Dumadag attributed Siargao's latest achievement to the strong collaboration of the government agencies, local government units on the island, and the private sector.
"Despite the meager resources, the collaborations have prioritized tourism in their development initiatives," she said.
She also recognized the tourism-related enterprises on the island, including the hotels, resorts, restaurants, and homestays, for ensuring that products and services are globally competitive.
"It is through the convergence of all stakeholders that supported, assisted, and steered the way to regain Siargao's international standing post-pandemic and post-Odette," Dumadag said.
Meanwhile, General Luna Mayor Sol Matugas said the resilience and determination of the people made Siargao gain such exceptional achievement.
The recognition, she added, serves as a testament to the steadfast determination and hard work of Siargao residents amid the challenges.
"I ask the people of General Luna and the rest of the island to make this international recognition an opportunity to further enhance the island as a world-class destination while preserving Siargao's natural beauty through the promotion of the sustainable tourism industry," she said.
In a statement Friday, Tourism Secretary Christina Frasco welcomed thr recognition, seeing it as a "resounding message" from tourists that "they Love the Philippines".
"From the charm of our islands, pristine beaches, crystal-clear waters, vibrant marine life, lush landscapes, rich heritage and culture, and the excellent hospitality of the Filipino people, the Philippine experience is always one that is filled with love and happy travels," she said.
"This achievement reflects the hard work, dedication, and sustainable tourism efforts of our country, from our local communities, national and local government agencies, and stakeholders who have strived tirelessly to preserve and enhance the beauty of these islands," she added.
Asked how this latest recognition will help position the country, Frasco said, "The awards inspire us to continue developing and promoting the Philippines as a premier travel destination in Asia and the world."
The Top 10 Islands in Asia for 2023 are Bali, Indonesia at 91.08 percent; Koh Samui, Thailand (91.07 percent); Boracay, Philippines (90.7 percent); Phuket, Thailand (90.3 percent); Langkawi, Malaysia (90.1 percent); Palawan, Philippines (89.7 percent); Sri Lanka (89.5 percent); Phú Quốc, Vietnam (88.8 percent); Okinawa and Ryukyu Islands, Japan (88.2 percent; and Siargao, Philippines (87.3 percent). (PNA)