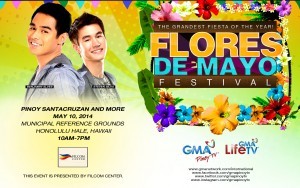 The Hawaiians are in for a vibrant celebration of an iconic event, as GMA International is all set to take part in the Flores de Mayo festivities in Honolulu this coming May 10, 2014.
The Filipino Community Center (FilCom) is bringing the Flores de Mayo festival in Hawaii along with the authentic Filipino customs and traditions that make it one of the most-awaited fiestas in the Philippines. Adding to the hallmarks of the event are two of GMA's heartthrobs, Benjamin Alves and Steven Silva, who will be lending their good looks and undeniable talents to make Flores de Mayo in Hawaii a memorable affair.
The Flores de Mayo festival is in line with FilCom's mission to promote and perpetuate Filipino culture in the state of Hawaii. Since its inception, Flores de Mayo has become a rallying point for Filipinos in the state to gather and be proud of their ancestry. Among the highlights of the event will be the Santacruzan, which is a pageant of sorts held in commemoration of the finding of the True Cross in Jerusalem by Helena and Constantine.
Indeed, the Flores de Mayo in Hawaii is a must-see, especially for those who have strong ties to the Philippines' colorful culture. For more details about the event, interested parties may visit the FilCom (www.filcom.org) and GMA International (www.gmanetwork.com/international) websites and "like" the GMA Pinoy TV Facebook page for more updates.