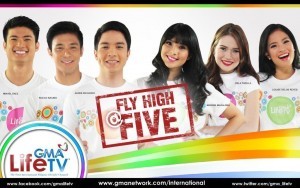 GMA Life TV, the first international Filipino lifestyle channel by GMA International, is commemorating five years of celebrating the best in Pinoy lifestyle this May through a colorful and vibrant television campaign representing all the wonderful things that the channel is known for.
For five years already, GMA Life TV – one of GMA's overseas channels alongside its flagship channel GMA Pinoy TV and international news channel GMA News TV International – has been a leading source of not only informative and entertaining, but also inspiring and meaningful Filipino lifestyle shows among Filipinos outside of the country.
To celebrate this important milestone, GMA Life TV has tapped six of the Network's most sought after stars – Alden Richards, Mikael Daez, Rocco Nacino, Maxene Magalona, Bela Padilla and Louise Delos Reyes – to be the faces of the channel for its GMA Life TV: Fly High @ Five anniversary campaign. As the GMA Life TV VJs, they will take turns in introducing each program lending the channel their unique and colorful personalities.
"Highlighting the distinct and exceptional traits of the Pinoy lifestyle has ever been the primary goal of GMA Life TV," said GMA Vice President and Head of International Operations Joseph T. Francia. "This year, we want to make things even more exciting as we present the GMA Life TV VJs, who equally embody the best traits of the channel – being fun, hip, original and inspirational."
GMA Life TV prides itself in being the first and only Filipino lifestyle channel abroad to air English-dubbed Filipino drama series and the only Filipino channel offering classic black and white Pinoy films. In the coming months, viewers must especially await new movie titles (both mainstream and independent) as well as the premiere of GMA Life TV's first documentary series "Home is Where the Heart Is," which will take a peek into the homes of Filipinos living abroad.
The channel is set to even further diversify and enrich its content through the launch of new programs created by the country's pioneer publisher of glossy magazines, One Mega Group. Such programs include a new fashion/reality program, a cooking show and also a home design show that fit right into the channel's diverse mix of program genres focusing on home, fashion, food, travel, drama and reality.
GMA Life TV is available in the U.S, Canada, the Middle East, North Africa, Europe, Hong Kong, Guam, Japan, Australia, New Zealand, Papua New Guinea, and Madagascar with an estimated one million viewers from all over the world. It will also be launched in additional pay-TV systems in North Africa and the Asia Pacific Region this year.
For more information on the channel,interested parties may visit www.gmanetwork.com/international. (30)