By Priam Nepomuceno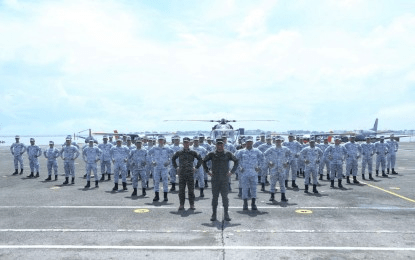 MANILA – Armed Forces of the Philippines (AFP) chief Gen. Romeo Brawner Jr. urged all pilots and personnel of the Naval Air Wing (NAW) to go beyond their limits in protecting the country's vast maritime territories.
"May we forever prioritize safety as a cornerstone of our operational success. Together, we will uphold the core values of the NAW – soaring safely towards unparalleled excellence. I would like to challenge you to try to surpass the limits that you have set for your unit," Brawner said during the celebration of the NAW's 76th founding anniversary at the Sangley Point in Cavite City on Wednesday.
Brawner also acknowledged the difficulty of the job of NAW aviators, especially their flying missions to defend and protect Philippine territorial integrity.
He also lauded the NAW for its swift response and crucial support to the ground forces during the Marawi Siege, which celebrated the 6th anniversary of its liberation on Oct. 17.
"The NAW fulfills a vital mission in ensuring the safety and security of our nation's airspace and maritime territories. Through relentless training and an unwavering commitment to safety, the NAW has rightfully earned its reputation as a dependable and formidable force of the Philippine Navy," he said.
Brawner also honored the men and women of the NAW for their dedication to duty and encouraged them to renew their commitment to excellence and professionalism.
The NAW, formerly known as Naval Air Group, started as a Naval Air Section and was founded on Oct. 7, 1947. (PNA)