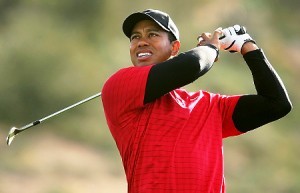 ATLANTA, August 10, 2011 (AFP) – Tiger Woods expects China will soon produce world-class golfers once the sport takes its place in the Olympics in 2016 and also plans to expand his foundation learning centers into Thailand.
Woods, speaking Wednesday on the eve of the 93rd PGA Championship, said that he expects golf interest in China and South America will grow ahead of the 2016 Olympic debut of golf at Rio de Janeiro.
"Places like China or in South America where it's just beginning, when they get countries behind it and the golf federation is behind it and government backing behind programs, it's amazing what happens," Woods said.
"What the Chinese have done over the years with their governmental programs for individual sports, selecting kids at very early ages and next thing you know they're Olympic gold medalists, that's what can happen and I think that's what's going to happen in golf."
Woods, who plans to play in Asia and Australia later this year, also said he hopes to expand his foundation learning centres from US locales to Asia, especially the homeland of his Thai-born mother, Kultida Woods.
"We're looking at right now expansion into Asia," he said. "I was lucky enough to have had the opportunity to build a learning center and have my dad there before he passed to be able to see what we did.
"I would like to do something like that in Thailand before my mom goes. She's not going to go anytime soon. As you know, she's pretty stubborn.
"It will be something I really want to make happen and make her proud that she gets to help her country in Thailand."