By Glenn Chapman
SAN FRANCISCO, December 6, 2010 (AFP) – Internet giant Google opened an online electronic bookstore on Monday in a heavyweight entry into a booming market long dominated by Kindle-maker Amazon.
Google eBookstore was being rolled out in the United States featuring the Mountain View, California-based company's massive library of digitized works online at books.google.com.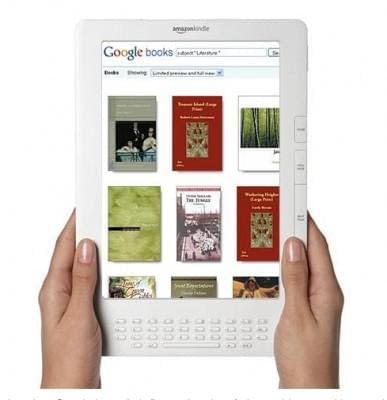 "We believe it will be the world's largest e-books library," said Google spokeswoman Jeannie Hornung. "Including the free books, there are more than three million."
Hundreds of thousands of digital books will be for sale in the eBookstore, which Google said will expand internationally next year.
Google e-books will be kept online in the Internet "cloud" and be available for reading from any Web-linked computer or using free applications on mobile gadgets such as smartphones running Apple software or Google's Android.
People will be able to "sideload" books equipped with anti-piracy software on to dedicated reading devices made by Sony and other firms, Hornung said.
Amazon's Kindle was not on the list of Google-friendly e-readers.
Google believes that most people will prefer to log in and read their books online from whichever gadget is most convenient at a given moment, in a manner similar to the way people check Web-based Gmail accounts.
"You will be able to store the books in a library in the cloud and use your Google account to access them from anywhere using the Internet," Hornung said. "It will be a page-turning experience with flowing text."
"I believe that years from now we will buy e-books from any bookstore, keep them all in a virtual bookshelf, and read them on any device," said James Crawford, engineering director for Google Books. "This moment is the beginning of that vision."
Powell's, online book shop Alibris and the American Booksellers Association are among launch-day partners that will also sell Google digital books.
Titles sold at the eBookstore will range from hot new works such as those featured on The New York Times bestseller lists to technical books with "image support" for graphics on virtual pages.
Google eBookstore prices will be "competitive" with the cheapest being free works already available in the firm's online library, Hornung said.
Google will team with book-lovers social website Good Reads as part of an effort to build an "affiliate network" of online locales where people will be able to buy its e-books.
Google has 4,000 publisher partners, with revenue from sales split based on individually negotiated deals.
"The idea is that you can buy e-books from a retailer of your choice and read them on devices you already own," Hornung said.
Google has digitized more than 15 million books from more than 100 countries and in more than 400 languages since its Google Books project launched in 2004.
Google is still awaiting a ruling by a US federal judge pondering the fate of a legal agreement with US authors and publishers that would clear the way for Google Books, a separate project from the Google eBookstore.
A sticking point in the settlement has been the fate of "orphan" works and copyrighted titles that are out of print. Such books won't be for sale at the eBookstore.
US spending on e-books is expected to total 966 million dollars this year, up from 301 million dollars last year, and to reach 2.81 billion dollars in 2015, according to market research firm Forrester.
The number of e-book readers with dedicated devices in the United States is expected to grow from 3.7 million at the end of last year to 10.3 million at the end of this year to 29.4 million in 2015.
A Forrester survey of e-book readers found that 35 percent read e-books on a laptop computer, 32 percent on Amazon's Kindle, 15 percent on Apple's iPhone, 12 percent on a Sony e-reader and 10 percent on a netbook computer.
Nine percent said they use a Nook e-reader from Barnes and Noble, nine percent said they use Apple's iPad, eight percent said they use some other e-reader and six percent said they use a cellphone other than the iPhone.