Proceeds to fund free clinical breast exams, mammograms and treatment referrals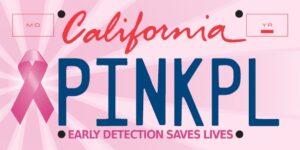 SACRAMENTO — California Governor Jerry Brown kicked off Breast Cancer Awareness Month Thursday by urging residents to order the state's new official Pink Ribbon License Plates.
"This year, for the first time, Californians may support the early detection of breast cancer through a specialty license plate, available at https://pinkplate.org/," Brown said in a letter marking the start of Breast Cancer Awareness Month. Brown also planned to promote the plates on social media.
The new specialty license plates are the result of a years-long effort by a group of California breast cancer survivors who call themselves the "Survivor Sisters." Brown signed AB 49, sponsored by then-Assemblymember Joan Buchanan, into law in September 2014.
At least 7,500 pre-orders are needed for the Department of Motor Vehicles to begin producing the plates. Orders can be made at www.pinkplate.org. Plates can be pre-ordered for a driver's own vehicle or as a gift. A portion of the purchase is tax deductible. Costs begin at as little as $50. Roughly 700 have been ordered.
Throughout October, community organizations and individuals throughout California will commemorate Breast Cancer Awareness Month through a variety of public education and awareness events. The governor is highlighting the Pink Ribbon License Plates, which are designed to deliver a message of "Early Detection Saves Lives" and to help fund breast cancer screenings for underserved women
In 2015, it is expected that 25,260 women in California will be diagnosed with breast cancer and 4,240 will die of the disease. Breast cancer is the most common cancer among women in all race/ethnic groups in California.
"Early detection of breast cancer improves the chances of survival. In fact, when breast cancer is diagnosed early (at a localized stage), 99 percent of women survive for five years or more," Brown wrote. "Breast cancer mortality in California has declined by 35 percent due to the combined effects of better treatment and earlier diagnosis, and access to breast cancer screening has been shown to save lives through early detection."
Money generated from the California Pink Ribbon License Plate will allow more women across California to get regular breast exams and mammograms, potentially saving lives. The funds will be directed to the Breast Cancer Control Account, which funds the state's Every Woman Counts program administered by the California Department of Health Care Services. The program partners with county departments of public health and county health consortia across California to provide women with local, easy access to screenings.