By Zaldy De Layola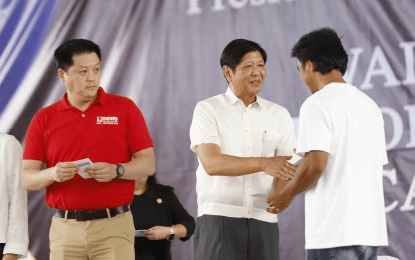 MANILA – Department of Social Welfare and Development (DSWD) Secretary Rex Gatchalian on Thursday said the government had already been taking strides in the fight against hunger and poverty even before the recent Social Weather Station (SWS) survey on these matters was conducted.
In a statement, Gatchalian pointed out that President Ferdinand R. Marcos Jr. has already instructed the DSWD to come up with innovative programs to combat and end hunger and poverty in the country.
"The instruction is hinged on President Marcos' desire to end hunger and make a more inclusive country where no one is left behind," he said.
"This is the reason why the DSWD came up with the Food Stamp Program (FSP), which was designed primarily to alleviate the lingering incidence of food poverty and malnutrition among low-income Filipino households through the provision of meal augmentation worth PHP 3,000 on a monthly basis," Gatchalian said.
The FSP is currently in its pilot run and the scale-up of the program is slated for the middle 2024.
The FSP will benefit a total of one million families classified as "food poor" based on the criteria and definitions set by the Philippine Statistics Authority (PSA), alongside pregnant and nursing mothers.
The pilot areas include Tondo, Manila and the regions of Cagayan Valley, Bicol, Caraga and the Bangsamoro Autonomous Region in Muslim Mindanao (BARMM).
The DSWD chief said President Marcos has already approved the regular budget of the FSP for 2024 to ensure that one million "food poor" families will continue to benefit under the FSP's meal augmentation program.
"There is also the Pantawid Pamilyang Pilipino Program or 4Ps wherein 4.4 million 'poorest of the poor' households or 20 million individuals continue to benefit from the program through the monthly subsidy for their children's education as well as monthly health subsidy," Gatchalian pointed out.
He said the 4.4 million families benefitting from 4Ps plus the one million "food-poor" families under the Food Stamp Program is expected to further push down the number of poor families in the coming months.
"This target of bringing down the number of people rating themselves as 'poor' is based on the positive note in the SWS survey showing that 25 percent of families rating themselves as 'hindi mahirap' or 'not poor,' is a three-point increase from the June numbers," the DSWD chief said.
The latest SWS survey showed that nearly half or 48 percent of Filipino families rated themselves as poor during the third quarter of the year. Conducted from September 28 to October 1, the SWS survey estimates that around 13.2 million families consider themselves as poor — higher than the 12.5 million estimated in June 2023.
Gatchalian said the DSWD envisions all Filipinos to be free from hunger and poverty, to have equal access to opportunities, and enabled by a fair, just, and peaceful society.
"This DSWD vision is coupled with the mission to lead in the formulation, implementation, and coordination of social welfare and development policies and programs for and with the poor, vulnerable and disadvantaged," he added. (PNA)