By Ruth Abbey Gita-Carlos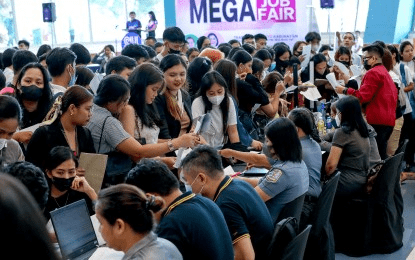 MANILA – The Marcos administration is committed to providing Filipinos with "high-quality and well-paying" jobs, Malacañang said on Friday.
Communications Secretary Cheloy Velicaria-Garafil said the Marcos administration is "resolutely dedicated to providing high-quality, well-paying job opportunities for the Filipino workforce" as she welcomed the decline in unemployment for August.
"The labor market saw significant progress, with unemployment dropping from 5.3 percent in August 2022 to 4.4 percent in August 2023, while underemployment improved from 15.9 percent in August 2022 to 11.7 percent in August 2023," Garafil said in a statement.
President Ferdinand R. Marcos Jr. signed the Republic Act (RA) 11962 or the Trabaho Para sa Bayan (Jobs for the Nation) Act on Sept. 27 to enhance employability.
RA 11962 mandates the formulation of a national employment master plan to address unemployment, underemployment, the informality of working arrangements, the reintegration of overseas Filipino workers (OFWs) and other challenges in the labor market.
The master plan, which has a three-, six-, and 10-year development timelines, includes initiatives for supporting micro, small and medium enterprises, worker upskilling, employer incentives, youth employment, as well as the reintegration of OFWs.
Garafil said the Senate's approval of the Public-Private Partnership Act and the launch of the National Innovation Agenda and Strategy Document for 2023-2032 are also expected to create more opportunities.
"By focusing on these key initiatives, the government aims to propel the nation toward a more resilient and prosperous future, ensuring that the Filipino workforce not only survives but thrives in an evolving job market," she said.
In a briefing earlier Friday, National Statistician Dennis Mapa said the number of unemployed Filipinos fell to 2.21 million in August this year from 2.68 million in the same month in 2022 and 2.27 million in July this year.
Mapa said the number of employed Filipinos was estimated at 48.07 million, higher than the reported 44.63 million in July and 47.87 million last year.
The employment rate was recorded at 95.6 percent. (PNA)