By Ruth Abbey Gita-Carlos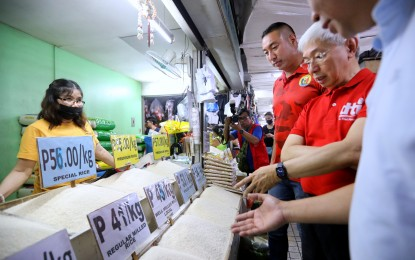 MANILA – President Ferdinand R. Marcos Jr. may soon lift the implementation of mandatory price caps on rice, the Department of Agriculture (DA) said on Tuesday.
"Nabanggit natin na 'yung price cap is temporary lang (We mentioned that the price cap is just temporary). It was done to really arrest 'yung (the) increasing prices that time that it defied the logic kasi meron tayong (we have the) supply," DA-Bureau of Plant Industry director Gerald Glenn Panganiban said in a Palace briefing.
"From our parameter naman, mukhang ready na (we are somehow ready [to lift the implementation of the price caps]). But of course, it's all up to the President to decide on it," he added.
This developed after the DA and the Department of Trade and Industry (DTI), during a sectoral meeting with Marcos at Malacañan Palace in Manila on Tuesday morning, recommended the lifting of the mandatory rice price ceiling.
Panganiban said there were several indicators for the lifting of the price cap, including the decreasing rice prices in local markets and an increased supply of local harvest in the last quarter of 2023.
He also noted "favorable" external factors that have been reported in the export prices of rice in the global market.
"We expected the DA and the DTI to have collaborations in order to further monitor and survey the prices so that it will not again increase drastically. So that's what we are doing," he said.
"Since we already have those indicators ready, I cannot say the duration but the indications point to that. We will just keep you updated as soon as there will be a decision," he added.
Under Executive Order (EO) 39 which took effect on Sept. 5, Marcos ordered the implementation of a price ceiling of PHP41 per kilogram on regular milled rice and PHP45 per kilogram on well-milled rice.
Panganiban noted that around "80 to 90 percent" of rice retailers have complied with the implementation of the mandated price ceilings.
He added that the government is expecting almost 1.9 million metric tons of rice for October, which will last up to 74 days.
"The public can expect that we will have a stable supply of our main staple," he said.
Asked if there were other conditions the government needed to achieve before Marcos could lift the mandatory price ceilings on rice, Panganiban said: "There are other indicators that may be considered. So, let us just wait for this decision."
Socioeconomic Planning Secretary Arsenio Balisacan earlier said the economic team would present "better" options to address the increase in the prices of rice in the local markets.
Panganiban said the DA is open to the alternative measures the economic managers would propose, adding that the department was focused on increasing the rice supply to stabilize the prices of the staple.
"What the President want is to have a stable supply of rice and that will translate to stable prices in the market so kami sa DA (we at the DA), we will continue with the production," he said. (PNA)