By Filane Mikee Cervantes, Joann Villanueva and Zaldy De Layola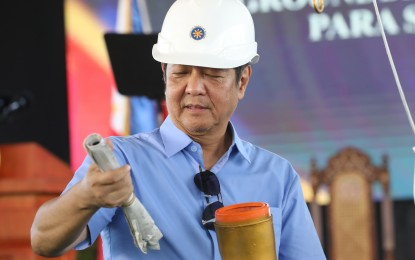 MANILA – President Ferdinand R. Marcos Jr. on Monday said the government is "working conscientiously" to provide opportunities that will uplift the living and social conditions of Filipino workers and their families.
As the nation celebrates Labor Day, Marcos paid tribute to the workers by describing them as "essential to the sustenance of our soaring economy".
"That is why we strive to address the cares and concerns of our workers as well as provide them with better opportunities so that they are capacitated to their full potential as active participants in nation-building," Marcos said.
"On behalf of our grateful Filipino people, I laud our workforce for their unwavering service and sacrifice in their respective fields and also for their significant contribution in our country's development," he added.
He urged the private sector to work together with the government in "building on the gains" of good governance and labor reform initiatives to ensure the sustainability of jobs, secure the livelihood of workers and maintain the productivity of the Philippine economy.
"If we all unite and work together with renewed hope, vigor, and enthusiasm in our respective fields, industries, and endeavors, I am certain that we can usher in a more equitable and prosperous future for all," Marcos said.
World-class Filipino workers
For her part, Department of Budget and Management (DBM) Secretary Amenah Pangandaman highlighted the big role of Filipino workers here and abroad in ensuring the economy's expansion.
"Today, we honor and recognize your important contributions to the stability and overall well-being of our nation. We have proven, time and again, that our quality-oriented work ethic is what makes Filipino workers world-class and a cut above the rest," she said in a statement.
Pangandaman noted the Department of Labor and Employment (DOLE) has scheduled several activities that will boost workers' welfare such as the payout of assistance to beneficiaries of the Tulong Panghanapbuhay sa Ating Disadvantaged/Displaced Workers program.
She said DOLE is also implementing the Government Internship Program and the Special Program for Employment of Students.
"These are a great help to our kababayans (compatriots)," she said.
She said the current government "has infused social protection programs in the 2023 national budget, mostly for the targeted vulnerable sectors of society."
This, she said, "is our commitment to achieve our eight-point Socioeconomic Agenda."
"Rest assured that we, at DBM shall endeavor to support programs that will benefit the welfare of our labor force. Hindi po namin kayo pababayaan (We will not abandon you)," she said.
"Let our determination to give every Filipino family a fighting chance to live a decent and prosperous life be our shared resolve this 2023 Labor Day."
Backbone of economy
In another statement, House Speaker Martin Romualdez cited the sacrifices of the Filipino workers.
"Our workers are the backbone not only of their families but of the economy and the nation. The economy would not be running if not for their tireless toil," he said.
He said the House of Representatives will always make it a point to attend to the concerns of the workers with "measures that protect their rights, promote their welfare and preserve their jobs and incomes."
He said recently enacted laws aim to enhance economic growth and improve the investment climate in the country, among them the liberalization amendments introduced in the Public Service Act, Retail Trade Law and Foreign Investments Act.
"The investment-diplomatic missions of President Ferdinand Marcos Jr. and his economic team, joined by a small group of House members, are all aimed at sustaining economic growth," he said.
"If we can keep the economy on the high growth path, our workers' jobs and incomes are not only preserved but we create more economic opportunities for them and their families, and our people in general."
Wage hike
The Senate likewise renewed its commitment to push for legislation that will protect and advance the interests of workers, particularly in terms of wage hike.
Senate President Juan Miguel Zubiri said he will bat for a salary increase of at least PHP150 in the private sector as contained in Senate Bill No 2002 or the Across-the-Board Wage Increase Act.
"This Labor Day, I join all our workers in fighting for decent benefits, living wages, and fair working conditions. This is especially crucial as rising costs of goods and utilities continue to hit our people's pockets, to the point that even toiling with a full-time job is no longer enough to support their families' needs," Zubiri said in a statement.
Senator Raffy Tulfo said in another statement that the Committee on Labor will start discussions on May 10 on Senate Resolution No. 476 that calls for a review on existing policies on wage increases.
DOLE, Regional Tripartite Wages and Productivity Board and Department of Trade and Industry representatives will be invited as resource persons.
Based on studies, Tulfo said a family of five needs at least PHP1,161 daily for survival, far from the daily current rate in the National Capital Region (NCR) of PHP570.
The NCR rate is the highest in non-agriculture wages while the Bangsamoro Autonomous Region in Muslim Mindanao has the lowest at PHP316.
Rizal 4th District Rep. Fidel Nograles, House Committee on Labor and Employment chair, similarly vowed to continue to fight for workers' welfare.
"As we strive to recover from the massive blow dealt by the pandemic, our people can rest assured that we will continue fighting for workers' welfare through meaningful legislation and by working with the government, industries, and workers themselves," Nograles said.
However, he asked for patience amid calls for an increase in minimum wage.
"Naiintindihan natin ang pinagmumulan ng panawagang ito. Ngunit kailangan din nating balansehin ang interes ng iba pang (We understand the root of this call. But we also need to balance along with the interest of other) stakeholders. We cannot rush our deliberations on such a crucial measure," he said.
He emphasized the importance of other interventions to help workers amid the current review of the wage hike proposal.
Nograles said DOLE's announcement to give PHP1.8 billion financial assistance to workers will help a lot "while we study the permanent solution." (With a report from Leonel Abasola/PNA)