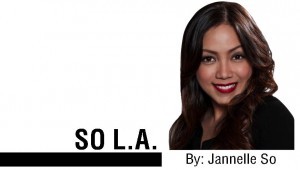 New York – She rose to fame as "Grasya," the round girl bearing the winning numbers for "Rambulaga," the successful numbers game segment of "Eat Bulaga," Philippines' longest-running noontime variety show.
The name was given to her by one of the show's mainstays, Joey de Leon, who said that by bringing in the winning numbers, she was essentially bringing in a lot of graces from heaven. But after about seven years of making people's dreams come true, "Grasya," Samantha Lopez in real life, decided to pursue her own dreams.
"I got burnt out. There was nowhere for me to go. There was no room for improvement. At the time, there were very few offers for TV, films, soap operas," Samantha said of her move from Manila to New York. "My friends didn't even know I was leaving. I went out to the club that night and told everyone I was leaving that same night. A lot of them ended up in a convoy to take me to the airport."
After about 14 years of finding her way out of the limelight she got used to in the Philippines, this dancer/model/actor is now a successful realtor in the concrete jungle. And true to character of bringing graces, she shares her tips for graceful living in the Big Apple.
"Be yourself because if not, it's easy to get lost in New York. You have to have that self-identity before you come here. That will be your strongest foundation."
Samantha explained that while other people travel and move to different places to "find themselves," New York is not the place for self-seekers. Because the city is so diverse and vast and fast-paced, one can easily get lost, depending on the crowd he/she ends up hanging out with, depending on favorable and unfavorable experiences, rejections, hustling and just keeping up with the busyness around.
A few weeks after 9/11, Samantha moved to New York to be with her family. Her dad was living here at the time, as well as her aunt whom she lived with for three months. Her American boyfriend was also based in Manhattan.
"He was the love of my life… my true love. It was just bad timing," she said. "By the time I decided to leave my career and get serious with him, he wasn't as serious about me anymore."
Nonetheless, since it was clear to her who she was and why she was in New York, Samantha did not waver despite the heartbreak.
2. "Be fearless in trying out new things. You'll never know what's out there unless you try. And if you fail, you learn from your failures."
Samantha candidly shared that when she arrived in New York on September 28th on 2011, she was not sure what she was going to do. She said that she kept going out for 45 nights, straight to the point where she couldn't invite anyone to go out with her anymore. And that's when a friend explained to her:
"'Madam, may nagtatrabaho ang mga tao dito. Magtrabaho ka din kaya,' my friend told me and I realized, yes, it was time to look for a job," she said.
The same friend introduced her to Serafina, a popular joint serving Italian cuisine in New York. She started as a hostess, and then as a bar tender, until she very quickly got promoted to being one of the managers.
3. "At work, always give your 200%. Be driven. Be devoted. Be loyal."
Samantha recalled how she loved her first job in Manhattan: "Tuwang-tuwa ako 'cause I loved my job. I love people. Kahit hindi ko trabaho, kahit trabaho ng busboy…I was attending to customers even if I wasn't a waitress." She said she worked with Serafina for 8 ½ years, doing double shifts, mostly 16-hour days. But proudly added that her enthusiasm never waned: "I had consistent energy from morning to evening."
4. "Be a go-getter. For some, mulling over a decision for weeks works. But for me, especially here in New York where opportunities don't wait for you, you have to be ready to grab."
She said she even volunteered to work one New Year's Eve because she was by herself, anyway. By then, she had already broken up with her boyfriend and would rather work and be out, than stay at home.
"I basically celebrated New Year's Eve, for the every first time in my life, with a bunch of strangers. I did not know anybody there. I just went for the job. I even did the countdown with people I haven't met," she said, adding that shortly after that event was when she got promoted. (To be continued.)
Jannelle So-Perkins is a Filipino-American media pioneer, having created, produced and hosted America's first and only daily talk show for Filipinos. After successfully running her show for almost 9 years, she left to take a break. Currently she's preparing to launch her new project with Ecomedia, a division of U.S. mainstream media giant CBS. Connect to her on Facebook – www.facebook.com/JannelleSoOFFCIAL; Twitter – www.twitter.com/JannelleSo; Instagram – www.instagram.com/sojannelle; or email her at sojannelle77@gmail.com.