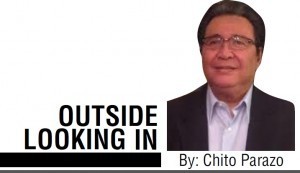 The wealthy and influential Cojuangco family of President BS Aquino has been running the 6,453-hectare Hacienda Luisita since they bought it in 1958.
President Aquino's grandfather, the late Jose Cojuangco Sr, father of the late and former President Cory Aquino, was able to acquire a large loan from the government, on condition that it would eventually be distributed  to farmers after 10 years.
Now almost five decades have passed,  the land has not been totally distributed to farm workers the way it should be under the law.  This is sad because many farm workers have died or were killed for asking a piece of land to own and till for a living.
As they have done in the past, the Aquinos and Cojuangcos will continue to use their immense wealth, as well as their influential and political connections to derail any legal attempts to force them to let go of their Hacienda Luisita. This will also mean that more violence will be perpetrated against farm workers and labor leaders advocating for genuine land reform. It is about time that the Aquino-Cojuangco clan give up their hold of Hacienda Luisita. They already made so much money out of their farm workers who work on their sugar mills and plantation for almost five decades.
So much blood has been spilled by farm workers demanding genuine land reform from the Aquino-Cojuangco clan ever since President Cory signed the Comprehensive Agrarian Reform  Program (CARP). The CARP is a government initiative that aims to grant landless farmers and farmworkers ownership of agricultural land. About 7.8 million hectares of land is covered by CARP.
It was signed into law by President Cory in June 1988 and is supposed to be completed by 1998. Congress enacted a law to extend its existence on the year it was suppose to end with a vision to complete the program. The CARP ended last year. The government is saying that as of December 2013, it has acquired and distributed 6.9 million hectares of land or 88 percent of the total land subject to CARP. Labor groups, however said the figures are farce and only a deception to cover up CARP's failure to implement genuine land reform in the country.
Ironically, President Cory's land reform program was a pro-landed design dubbed as Stock Distribution Option (SDO), which allowed landowners to distribute to their farmers shares of stocks in a corporation instead of land. Because of the SDO created under the CARP, big landowners like the Aquino-Cojuangco families as well as the Arroyos, Aranetas and Floreindos, were able to avoid land distribution to their farmers. These resulted in labor unrest, low wages and crafty or false benefits to farm workers.
In protest of this sneaky SDO program of the CARP, the farmers organized a labor union to claim their rights. As their numbers grew, they became bolder. On January 22, 1987, police and military personnel, on orders of President Cory, violently dispersed a farmers rally to Malacañang Palace. Thirteen unarmed farmers marching peacefully on Mendiola Bridge near Legarda street in Sampaloc were gunned down one after the other. To this day, no one among the police or military personnel were charged in court.
In November 16, 2004, farmers workers walked out from their job sites and picketed the gates leading to Hacienda Luisita in protest of the dismissal of several farm workers, most of them union officers, in the sugar plantation. They were also demanding better wages and benefits and the implementation of the land reform program as promised by President Cory in 1988 regarding land distribution to farmers.
At 3:20 in the afternoon, policemen from the Tarlac police department and Army troopers stationed just in front of Hacienda Luisita stormed their way to the picket lines in an effort to disperse the strikers. The violent dispersal resulted in the death of seven farm workers, all of whom suffered several gunshot wounds in  the body.
Police and army troopers claimed they were forced to fire at the strikers after hearing burst of gunfire coming from the ranks of the strikers. Ironically, not one police or army troopers suffered any injury. To this day, no one was charged in court for the slaying of the seven farmers.
Despite several investigations conducted by the Senate, police and the NBI in an effort to appease public indignation, no one was held accountable on the Hacienda Luisita massacre. A month after the bloodbath, eight more people supporting the farmers quest for justice, were killed one after the other. Among them was a retired army officer turned labor leader. He was shot and killed in his house days before he was scheduled to testify in a congressional hearing about the Hacienda Luisita massacre.
President Noynoy, who was then a Congressman, delivered a privileged speech to condemn the violence at the picket lines in Hacienda Luisita. He however, did not condemn the slaying of the farmers. In his speech, he said  the strike was about retrenchment. But in reality, the strike was in protest of the SDO, a scheme which circumvents land reform where landlords distribute stocks instead of lands.
Farm workers are saying that the blood that was spilled On Mendiola bridge in 1987 and the murder of seven striking farm workers at Hacienda Luisita in 2004 only show that the dreams of every peasant worker to own a farmland will remain elusive as long as the Aquino Cojuangco clan remains influential in government.