"Harry Potter and the Deathly Hallows, Part 1," earned an estimated $125.1 million domestically on its first weekend, putting the new film at the top of the heap in the franchise for opening weekend revenue, according to BoxOfficeMojo.com.
Playing on a whopping 4,125 screens across the country, "Deathly Hollows" topped the previous franchise leader, 2005's "Harry Potter and the Goblet of Fire," which took in $102.7 million in its first weekend, to become the sixth-biggest opening weekend of all time.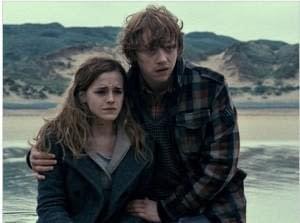 The film does fall slightly short of the record for highest opening weekend for 2010, a crown which goes to this summer's "Iron Man 2." The blockbuster sequel took in a staggering $128.1 million its first weekend back in May.
"Deathly Hallows" may shock rabid Hogwarts fans, because sex has become part of the equation in the Harry Potter plot.
The focal point of all that angst is Harry's longtime sidekick, Ron Weasley.
Ron Weasley? Don't be so surprised.
"There are a lot of teenyboppers who think Rupert Grint, who plays Ron, is terribly sexy," said Gregory Bassham, a professor of philosophy at King's College, in Wilkes-Barre, Pa., and editor of "The Ultimate Harry Potter and Philosophy: Hogwarts for Muggles" (Wiley, 2010).
"The vision witnessed by Ron leads him to visualize his worst fears," Bassham said.
What Ron sees is Harry (Daniel Radcliffe) and Hermione Granger (Emma Watson) embracing, looking as though they're beyond the affectionate snogging stage. The two characters' skins radiate a slick, silvery glow, akin to the bronzed look on a model on the cover of a fashion magazine.
In the segment, both Harry and Hermione's burnished physicality exudes an otherworldly and even slightly diabolical togetherness. As if that's not enough, Ron hears Hermione's apparition whispering to him, preying on his fears.
"In all probability, the image feeds Ron's insecurity, despair and jealousy," Bassham said.
Jealousy is an emotion Ron knows well.
"For years, Ron has been chronically jealous of Harry. who's famous, rich and glamorous, with all the girls crazy about him," Bassham said. "We've seen, over several books, that Ron lacks confidence. And he's always suspected that Harry has this thing for Hermione."
"There's also the issue of inferiority," said Anne Collins Smith, a professor of philosophy and classical studies at Stephen F. Austin State University in Nacogdoches, Texas. "Ron is the middle child, overshadowed by his older brothers, and by Harry, who's The Boy Who Lived."
Smith, whose essays in "The Ultimate Harry Potter and Philosophy" explore feminism and the power of love, also said Ron may feel that Hermione sees Harry as more attractive.
"It's only in the sixth book of the series, 'Harry Potter and the Half-Blood Prince,' that Ron realizes that he loves Hermione," she said. "And if Hermione goes off with Harry, then Ron will lose Harry, too. The vision is a vivid expression of Ron's nightmare that he might lose both of them."
The setting that frames Ron's vision doesn't help his psychological state.
Now that Harry has turned 17, his mother's protective spell can no longer help him. So the trio – Harry, Ron and Hermione – head to a desolate hiding place to avoid pursuit and ambush by Voldemort. Also on their agenda is to find and destroy several horcruxes, which are objects that contain bits of Voldemort's soul and are therefore linked to the Dark Lord's survival.
"Ron is very discouraged over what he perceives to be a suicide mission," Bassham said. "It's cold and rainy, and they're hungry. And, as Harry and Hermione go off to strategize, Ron feels very left out."
In the book, said Bassham, there is no vision linked to Ron's despair, which is so profound that it prompts Ron to announce he's leaving. To this, Harry says "Good riddance."
Hermione, who wants to stay true to the original plan – loyalty is an important theme – stays.
"But Ron says to her, 'I get it, you choose him,' meaning Harry," Bassham said.
"For the movie to create a visual depiction of what Ron is going through could be an effective psychological device," said Bassham, adding that audiences might rightfully connect the vision to the evil and corrupting effects of the horcrux they've found but are unable to destroy.
Primal Scene
"The vision that Ron has of Hermione and Harry is a projection," said Michael Vannoy Adams, a Jungian analyst in private practice in New York. "It's an inner experience that Ron projects outward onto Hermione and Harry, and what Freud calls a 'primal scene,' a sexual embrace that's intolerable. The vision has power because Ron imagines that it's all about them, when it's really only about him."
Although romantics concede that the path to true love is fraught with obstacles, will fans relish the impact of what flashes before Ron's eyes?
Travis Prinzi, a Harry Potter expert in Rochester, N.Y., who created and runs the Harry Potter discussion web site, www.thehogshead.org, said he doesn't think too many people will find fault with the vision. However, he said, those who might object would do so on the basis that, "If the author, J.K. Rowling, didn't include it, why should the movie?"
Harry Potter and the Love Triangle
Prinzi, who also wrote "Harry Potter and Imagination: The Way between Two Worlds (Zossima, 2008)," said readers often use their imagination to create their own visuals based on the narrative.
"For some fans, seeing the movie's vision-image may diminish their own experience of 'visualizing' how Ron felt," Prinzi said. "But others may see the vision as a representation of how much Ron had to overcome and how deep his frustration was.
The director David Yates, who helmed "Deathly Hallows" as well as the previous two Harry Potter movies, "has been able to communicate a lot with only a few images," said Prinzi. "In fact, he can communicate the entire history of Ron's struggle with this image."
Will some people object to the sexual subtext of the vision?
"The Harry Potter books are not just a children's series," said Smith. "As Harry grows up, the books also grow up, with more adult material, such as violence and also sexual tension between the teenage characters. Movies need to show sexual tension through images."