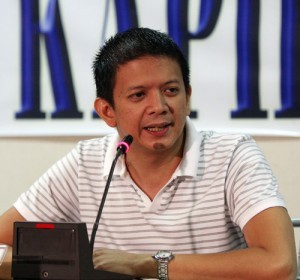 Just like Senator Francis "Chiz" Escudero, actress Heart Evangelista is not calling the several times she went out with the politician "dates."
"I don't think it's called dating. There's a new term for that nowadays… but no, I don't think it's dating," Evangelista said.
Escudero uses the term "meetings" when he is seen going out with Evangelista in public.
While is she being romantically linked to Escudero, Evangelista said having a peace of mind is what makes her look blooming recently.
"Peace of mind ang aking reason these days, and it's really nice to, you know, enjoy life, work…everything. It's nice, I like it! Siguro, very peaceful ako ngayon kaya blooming ako," she explained.
Evangelista said she can now "do everything I want." That's why she said she needs a man who is settled, and who can support her in her dreams.
"I need somebody to support me and dadalhin ako. Somebody who's relaxed, who's seen the world. I don't wan't him to be hungry for money or fame," Evangelista said.
Quizzed on the man who can potentially satisfy these criteria, Evangelista refused to identify him, but hinted that his name sounds like a "dairy" product.
"Basta he's in politics, he's older and I just know we'll talk about a lot of things," she said.
Evangelista also denied that she was the reason her relationship with Japanese-Brazilian model Daniel Matsunaga ended.
"That's a big insult for me kasi wala talaga akong… oh my gosh! Ako talaga 'yung someone that wouldn't do that. My past relationships weren't also about that, so, no, no, no, no," she explained.
Evangelista said she and Matsunaga "learned a lot from that relationship, we both became mature."
"I think it was a win-win situation for the two of us. And, you know, it's nice to meet people and they make a mark in your life and it changes your life forever, makes you a better person. And it worked for him and it worked for me," she said. (MNS)