Fifty-two villages were reported under water in Surigao del Sur province on the southern island of Mindanao, forcing local governor Johnny Pimentel to declare a state of calamity so emergency state rescue funds could be tapped.
"The town of San Miguel alone is already submerged under six feet (1.8 meters) of flood water," Pimentel told AFP by mobile phone.
"Roads are no longer passable to all types of vehicles, and we have had to use rubber boats to transport people and relief goods."
The government's disaster relief office said eight people had been confirmed killed over the past week across the eastern and southern Philippines, although there were no reported casualties on Monday.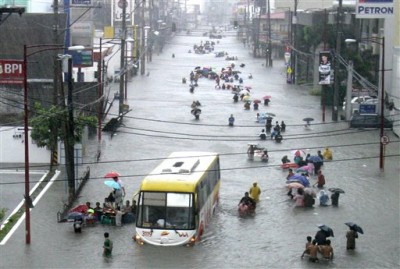 An 80-year-old woman and two boys were killed when a landslide and floods ravaged the remote mining town of Monkayo on Mindanao on Sunday, the National Disaster Risk Reduction and Management Council said.
A one-year-old boy and a five-year-old girl were also killed in a landslide on the eastern island of Leyte on Sunday.
The agency said more than 1,000 families had been forced to flee their homes on Leyte.
It also said a young woman who was reported missing in the Bicol peninsula of the main island of Luzon was found dead at the weekend, raising the toll from bad weather in that area to three.
Heavy rain was still pounding Surigao del Sur and other parts of Mindanao for the third straight day, forcing thousands of people to flee their homes, the disaster council said.
The state weather service said cold air from northeast Asia was triggering heavy rain as it came into contact with warmer air in the tropical country.