By Joyce Ann L. Rocamora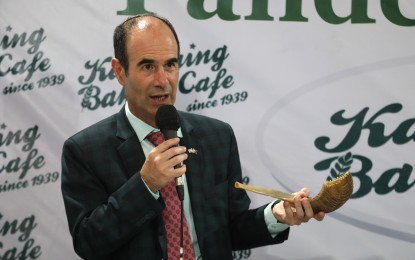 MANILA – A high-level Israeli defense delegation is set to visit the Philippines in November and discuss with counterparts ongoing Israeli projects and possible involvement in the next phase of the Armed Forces of the Philippines' (AFP) modernization program.
The Israel Embassy in Manila said the delegation will be led by the head of Israel's Ministry of Defense-International Defense Cooperation Directorate.
"[They will also] discuss the next modernization program or the Horizon 3 and see where we can get more involved so these will be meetings mostly with the Defense officials," Israel Ambassador to the Philippines Ilan Fluss told reporters at a forum in Quezon City on Wednesday.
"Basically, this is (one of) the agenda and to understand what are the future technologies that will be needed here vis-a-vis the Horizon 3 and then to see where we can integrate the Israeli technology," he added.
Horizon 3 is slated for 2023 to 2028.
During the visit, the delegation will check on the ongoing Israeli defense projects and commitments and see if the process of integrating its technologies in the Philippines is going smoothly, Fluss said.
The first and second Horizon projects of the AFP modernization program were implemented from 2013 to 2022, resulting in the acquisition of Del Pilar-class frigates, FA-50PH light-lift interim fighters and sealift vessels, among others.
In the two Horizon projects, Israel successfully delivered artillery, howitzers and armored personnel and mortar carriers to the Philippines.
Apart from modernization, Fluss also sees the possibility of Israel and the Philippines working on the promotion of peace and stability in the context of the changing geopolitical environment in the Middle East and Asia.
"As you know, we have our issues in the Middle East that are different than the challenges here but our approach (in regional security) is very similar," he said. "The Israeli approach (is) protecting the safety and the survival of Israel and on the other hand engaging or trying to engage with those that are open for engagement on our side."
Three more high-level delegations, including from economic relations, are scheduled to visit Manila in the coming months.
The upcoming high-level engagements between Israel and the Philippines come months after the historic Manila visit of Israeli Foreign Minister Eli Cohen in June.
Cohen and his counterpart Foreign Affairs Secretary Enrique Manalo discussed expanding trade, defense, agriculture and people-to-people exchanges between the two states. (PNA)