By Leonel Abasola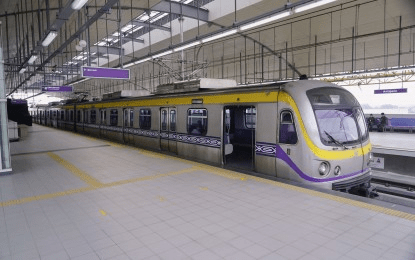 MANILA – The fare hike in two rail lines starting Aug. 2 is "beneficial and practical" for both the passengers and operators of the LRT-1 and LRT-2, an official of the Department of Transportation (DOTr) said on Monday.
DOTr Undersecretary for Railways Cesar Chavez said it has been eight years since the LRT-1 and LRT-2 adjusted their fares, as he assured that the services of the LRT-1 and LRT-2 are "far better and more efficient now."
"This approved fare increase is also on the right side of the future of (the) rail system. Kinakailangan igalang ng gobyerno ang pinapasok niyang kasunduan sa private sector, at dapat sensitive din ang gobyerno sa kapakanan ng mamamayan sa pangmatagalang epekto sa sustainability ng rail system (The government should honor its pact with the private sector and at the same time sensitive to the welfare of the public as regards to the long-term effect on the sustainability of the rail system)," Chavez said in a news release.
Chavez said the LRT-1 and LRT-2 "deserve a modest fare increase after petitions were denied for the past eight years".
The actual rates for end-to-end travel at the LRT-2 from Antipolo City in Rizal to Recto in Manila cost PHP178 per passenger, but only PHP30 is being charged.
"Therefore, PHP148 ang indicative subsidy by the government sa bawat mananakay sa bawat sakay dulo sa dulo (for every passenger riding end-to-end)," he said.
Chavez said the LRT-1 operators had also asked for a fare increase since 2016.
The new fare consists of an additional PHP2.29 boarding fare and PHP0.21 distance fare per kilometer, from the existing PHP11.00 boarding fare and PHP1.00 distance fare.
MRT-3 to re-file fare hike petition
Chavez bared that the Metro Rail Transit Line 3 (MRT-3) is set to re-file its petition for a fare adjustment before the DOTr's Rail Regulatory Unit.
MRT-3's fare hike petition was deferred due to "infirmities in complying with the requirements and procedure."
Like the LRT-1 and LRT-2, no fare adjustment was approved for the MRT-3 for the last eight years, Chavez said.
The LRT-1 runs from Baclaran in Parañaque City to Bago Bantay, Quezon City (Roosevelt); LRT-2 from Recto in Manila to Antipolo City in Rizal; and MRT-3 along EDSA from Taft Avenue to North Avenue in Quezon City. (PNA)